November 13 2012
Army ROTC Ranks are Growing on College Campuses
Vicki E. Alger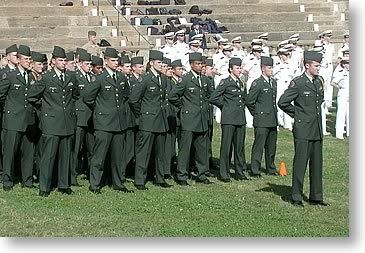 Enrollment in the Army Reserve Officers' Training Corps, or ROTC, at Virginia Tech's campus is about the highest it's been since the Vietnam War—and that's not an isolated case. According to the Washington Post:
College campuses, some of which spurned ROTC for years, now are embracing the military programs, as students look for leadership opportunities, financial help and the chance for service. …

Harvard Business Review devoted much of its November 2010 issue to leadership lessons from the military, bringing corporate respect to experience that veterans or ROTC graduates can bring to the private sector. Some ROTC leaders think the message stuck and made it easier for them to push their students for top internships, fellowships, jobs at the State Department or admission to medical, law or business schools….

Natasha Laramie, 18, of Sterling joined the Army ROTC because she thinks it will help her work for the State Department eventually. She picked Virginia Tech because the corps allows her to get a full military school experience and leadership training but she can still attend a major state school and get the typical college experience.

"It's definitely a lifestyle change. I usually don't get up at 4 a.m. to go running…My mom was a little worried at first . . . but she knows this sets me up really well for the future."
This sort of dedication is a welcome contrast to horror stories of undergraduates dropping out of college, defaulting on student loans, and leaving their parents and even grandparents on the hook for tens of thousands of dollars worth of debt and bad credit.