January 23 2017
Message Confusion at Women's March
Charlotte Hays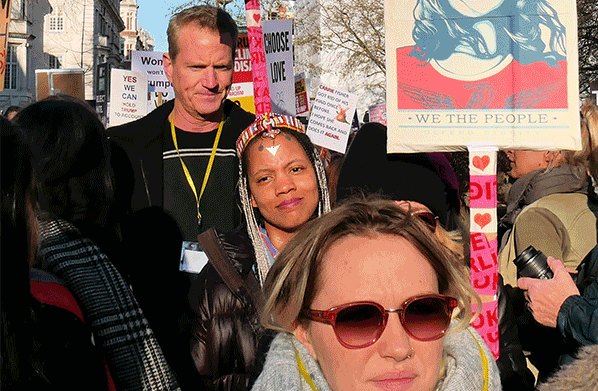 On the subway Friday morning, heading over to Alexandria to watch President Trump's inauguration on TV with friends, I spotted the placard that would stick with me for the weekend. It read: "Make America Tolerant Again."
People in oppressed parts of the world do not walk around carrying signs urging tolerance. It would be risky. People in intolerant countries do not stage massive demonstrations and marches to mark the ceremonies inaugurating a new leader.
Yes, we stand up for free speech and their right to march. But we wish their messages had been a little more thought out.
At the women's march on Saturday, most people seemed well-behaved (I was running errands, not marching). I noticed that one pleasant young woman from Olney, Md., carried a sign with a quote from Malala Yousafzai, the young woman who was beaten to within an inch of her life by the Taliban for the sin on wanting to go to school: "We cannot all succeed when half of us are held back," it read. Had the young marcher not heard that women outnumber men on college campuses in the U.S.?
Message confusion was very much on display at the D.C. march (there were of course marches elsewhere, including on a boat in Antarctica). The Wall Street Journal captured this confusion ("Women March for Everything Under the Progressive Sun"):
The marchers in Washington seemed to have a million messages. One big theme was reproductive rights. "Get your policies out of my exam room," read one sign defending Planned Parenthood. Others read "Save ACA, live long, and prosper," "My body my business," and "Reproductive rights are human rights." Many women carried signs depicting the female anatomy or wore crocheted pink cat ears—a pun on a vulgar term Mr. Trump once uttered.
There were plenty of other pet causes. "Racial justice = LGBTQ issues," read one sign. A popular poster featured a woman in an American-flag hijab and the words "We the people are greater than fear." Forty-year-old Pablo Rosa, who immigrated to the U.S. when he was 13, carried a sign that said "Mexico owes US nothing." Other posters called Mr. Trump "the Kremlin candidate" and "Putin's pawn," pleaded to "protect our planet," and proclaimed: "Public education is a civil right."
The mood on Saturday was upbeat—surprisingly so, given the divisions that emerged during the march's planning. Leading up to the march several posts on the organization's social media pages erupted in controversy. ShiShi Rose, a social media administrator for the march, wrote an Instagram post titled "White Allies Read Below." She instructed that "no ally ever got very far without acknowledgment of their privilege daily" and informed white women that they "don't just get to join because you're scared too. I was born scared."
The nasty women were the celebrities. Madonna said she wanted to blow up the White House but later, after she had gotten some flak, clarified that this was a metaphor. Ashley Judd was a standout:
She proceeded to recite a poem written by a 19-year-old named Nina Donovan from Tennessee. The contents of the writing included references to Trump's election, mass incarceration, LGBT rights, the wage gap, and more relevant issues. At one point, the poem compares Trump to Adolf Hitler.
"I feel Hitler in these streets," Judd said, "A mustache traded for a toupee. Nazis renamed."
The poem repeated the refrain "I am not as nasty as…" at one point attacking Trump's relationship with his daughter, Ivanka.
"I'm not as nasty as your daughter being your favorite sex symbol," Judd said.
Some of this Donald Trump brought on by unfortunate remarks, but I can't help believing that this protest indicates that we are in for a rough ride.
As the Wall Street Journal noted, the march was every progressive cause lumped together. An aspect of this phenomenon that should worry us is that it is going to be difficult to engage on the level of ideas (though we will never give up trying).
One of the less well-known speakers, however, overheard on a radio as I navigated the crowd, cautioned marchers not to hate those who voted for Trump. "Just because you made one bad decision doesn't make you a bad person," he explained. Thanks loads.
The crowds for the women's march far surpassed those for the inauguration. Anybody who was out and about in Washington over the weekend knows this. One factor may have been that most of these women seemed to be affluent, while Trump voters in the Rust Belt are less likely to have the discretionary income required for a trip to D.C.