February 6 2017
Senate Democrats to Stage All-Night Talkathon against Betsy DeVos
Charlotte Hays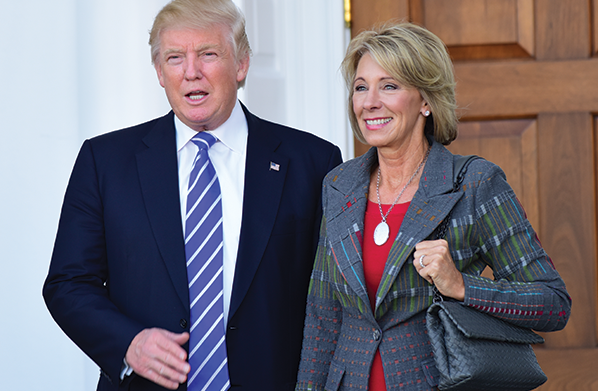 Democrats in the U.S. Senate are staging an all-night talkathon as a last ditch effort to defeat the nomination of school choice advocate Betsy DeVos for education secretary. The Hill reports:
"Democrats will hold the floor for the next 24 hours, until the final vote, to do everything we can to persuade just one more Republican to join us," Sen. Patty Murray (D-Wash.) said from the Senate floor Monday.
Republican Senators Lisa Murkowski, Alaska, and Susan Collins, Maine, both recipients of teacher union donations, have already said they will vote against DeVos.
If the Democrats fail to get one more Republican, Vice President Mike Pence could still break a 50-50 tie and send DeVos to DOE, but one more Republican defection would doom DeVos. Jonathan Tobin says that a defeat for DeVos would be a sad day for public education:
DeVos's defeat would be a black eye for Trump, but, viewed from a historical perspective, losing just one Cabinet appointment wouldn't be a big deal. Still, the importance of this fight for the future of American education cannot be overestimated. Having a White House that is willing to back the most prominent advocate of reform, along with a Republican Senate, creates a unique opportunity. DeVos's presence at the Department of Education could begin moving the school-choice movement from the margins of the public square to its center. And that is precisely why the forces that are most opposed to shaking up the public monopoly on education funding are so eager to defeat her.
. . .
Instead of standing by and allowing DeVos to become a piñata for groups that have a vested interest in opposing education reform, those who can afford good schools for their kids must ask themselves whether those children who might benefit from school-choice programs advocated by DeVos are made in the image of God, like our own. Giving DeVos a chance to serve will be the most effective response to a cynical liberal education establishment that — despite their supposed sympathy for the poor — continues to answer, "No."
I am certain that some of the Democrats who'll be speaking tonight have their kids in public schools, but they are people who, if the public schools their children would attend are failing ones, probably have the option to send their kids to a private school. DeVos is an advocate for parents who can't afford private schools but want a topnotch education for their children.