February 14 2017
Happy Valentine's Day, Anna Wintour!
Charlotte Allen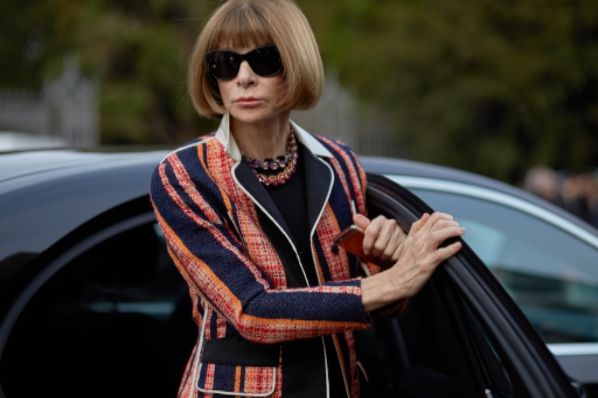 It's Valentine's Day, so time for a valentine.
This one goes to Anna Wintour, editor of Vogue--for declining to go along with the fashion-world effort to destroy all things Trump-related. Especially--and this is the odd thing for a liberal-dominated industry that claims devotion to feminism--all female things Trump-related.
There's the destruction of daughter Ivanka Trump's clothing business by pressuring retailers to drop her lines.
There's the boycott of models from the Trump modeling agencies--many of whom, as my colleague Patrice Onwuka reports, are Third World immigrants for whom liberals are supposed to have a lot of sympathy.
There are the fashion designers who refuse to dress First Lady Melania Trump.
But the 67-year-old Wintour, even though she endorsed Hillary Clinton for president in the 2016 election, isn't participating in the Trump shunning. Mediaite reports:
On Thursday, The Wall Street Jorunal published a new interview with Anna Wintour, the Editor-in-Chief of Vogue, which touched a bit on her and the fashion magazine's politics. In 2016, Vogue endorsed a presidential candidate for the first time in its century-plus long history, putting its weight behind Hillary Clinton. In light of that, and Wintour personally being a vocal Clinton supporter, there was some uncertainty about how Vogue, which always covers the First Lady of the United States, would treat Melania Trump. Wintour tried to put that issue to bed when speaking to the WSJ.
"Obviously we felt it was a moment in history for women," she said. "At times like that you need to take a leadership position. […] To me, it was in support of women." She doesn't believe that the endorsement cost Vogue subscribers, but she did make sure to clarify that Mrs. Trump will be treated the same as any other First Lady. "We have a tradition of always covering whoever is the First Lady at Vogue and I can't imagine that this time would be any different."
And as the New York Post reports, Wintour also thinks that Melania, a statuesque former model who's indisputably gorgeous, could actually trigger a burst of fashion creativity among designers making clothes for her:
"[Designers will] be inspired by what they see and that will come out in their work," she said. "The next few years are going to be incredibly creative."
Indeed Melania has already been on Vogue's cover, in 2010, when she modeled the wedding dress she wore for her marriage to the future President Trump.
Well! The devil may wear Prada (and may also be a lifelong Democrat), but she's a devil who's not afraid to buck the destructive fashion-world herd.