February 24 2017
The Gray Lady Isn't Winning an Oscar . . .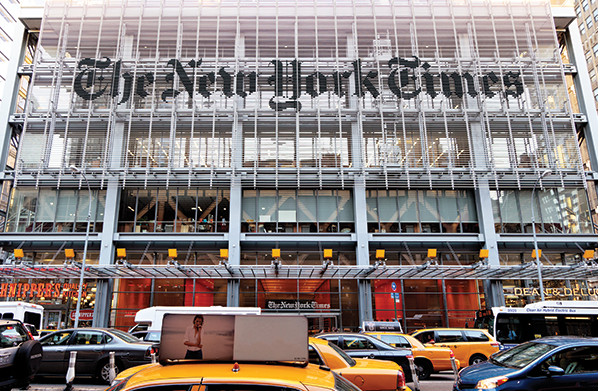 The New York Times isn't winning an Oscar Sunday night, but it does plan to get into the act by airing an anti-Trump advertisement. Why let Meryl Streep have all the fun?
The New York Times will run its first-ever advertising during the Academy Awards this Sunday with a spot that appears to target the Trump administration titled "The Truth."
The ad lists conflicting statements that all start with three words, "The truth is."
"The truth is alternative facts are lies," reads one screen, a shot at Trump senior advisor Kellyanne Conway's use of the term "alternative facts" during an interview last month with NBC's Chuck Todd.
"The truth is the media is dishonest," reads another, which appears to be a reference to President Trump's repeated assertion that the media is dishonest.
"The truth is a woman should dress like a woman" is another reference to Trump based on an unnamed source who told the online news publication Axios that the president prefers women who work for him to "dress like women."
The ad ends with words in bold: "The truth is hard/the truth is hard to know/the truth is more important than ever." It closes on the logo of The New York Times.
Banning the New York Times and other outlets that have given President Trump unfavorable coverage from an impromptu press opportunity with Spokesman Sean Spicer, which reportedly happened today, is dumb for all sorts of reasons.
But the truth is that the Times' selection of Oscar night to air the ad merely reminds us of why the evening has become such a bore. It is an ideological prom that has less to do with entertaining every year.
The Hollywood Reporter and the National Research Group released a poll that found that 66 percent of Trump supporters have turned off their TV when an actor indulges in a political speech at an awards presentation. Only 19 percent of Clinton voters have done that.
Don't misplace the remote Sunday evening.