2015 Woman of Valor Awards Dinner
When:
November 18 2015
Details:

BUY YOUR TICKET OR TABLE NOW >>>
IWN/LOLA Colorado Debate Watch Party
When:
October 28 2015
Details: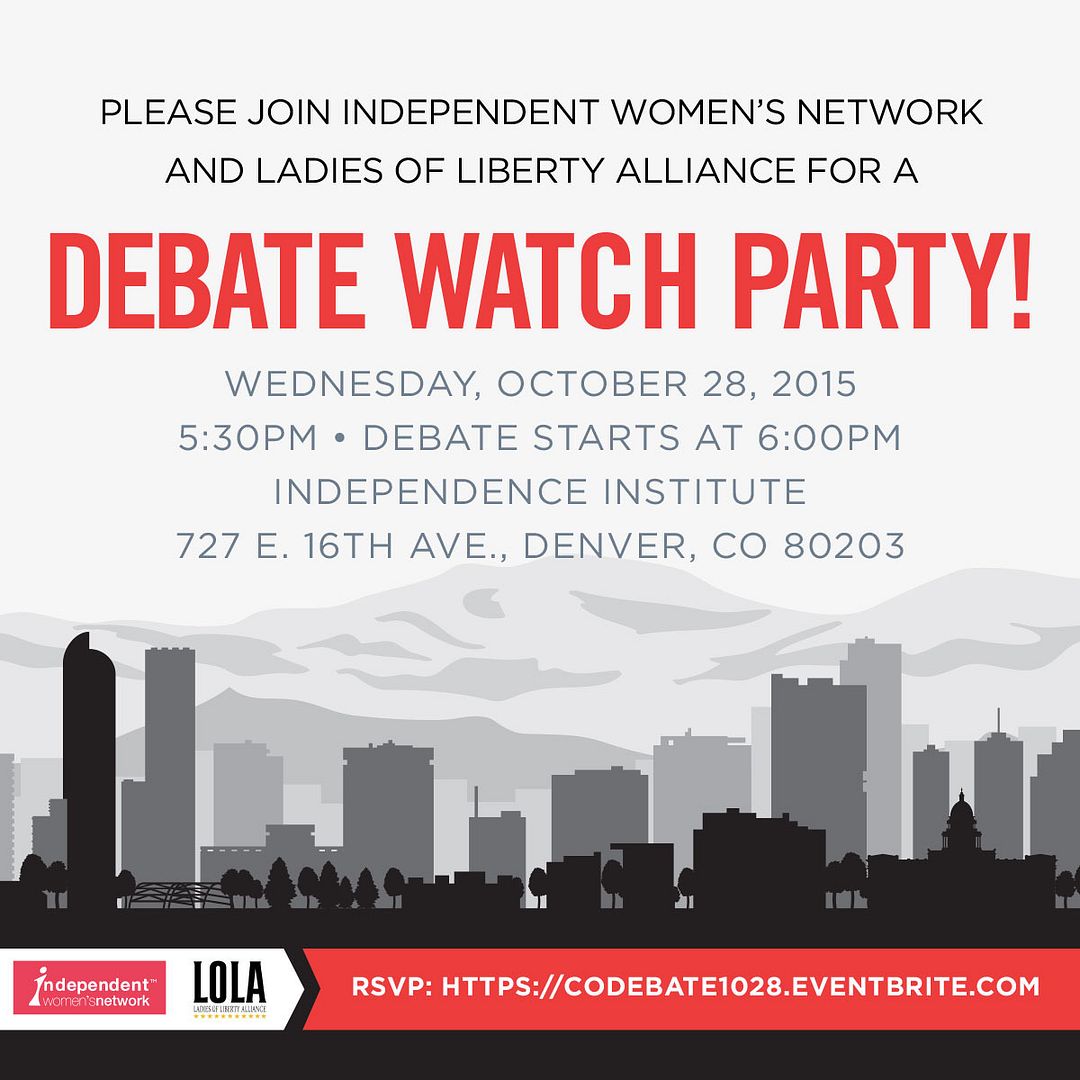 DATE: WEDNESDAY, OCTOBER 28, 2015
TIME: 5:30PM • DEBATE STARTS AT 6:00PM
LOCATION: INDEPENDENCE INSTITUTE 727 E. 16TH AVE., DENVER, CO 80203
RSVP: HTTPS://CODEBATE1028.EVENTBRITE.COM
Inside The Minds Of Conservative Women: How To Engage In 2016
When:
October 15 2015
Details:


Empowering Leaders For The Future Summit: Reaching Millennials
When:
October 2 2015
Details: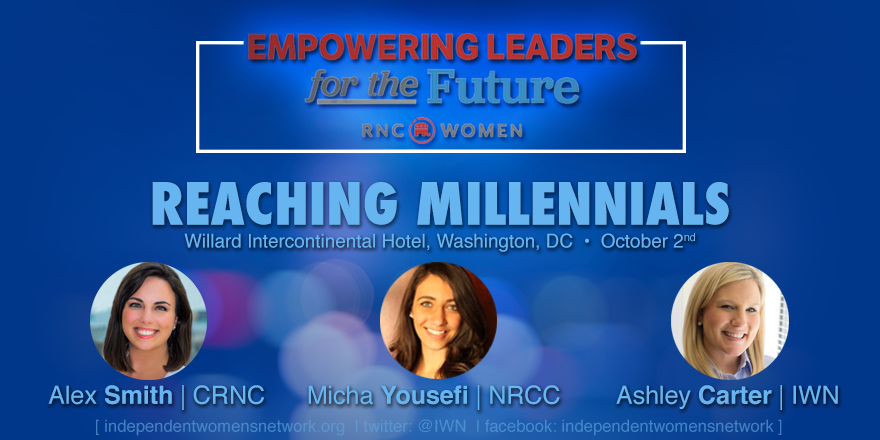 Come Meet The Superwomen Standing Up For Science
When:
September 17 2015
Details: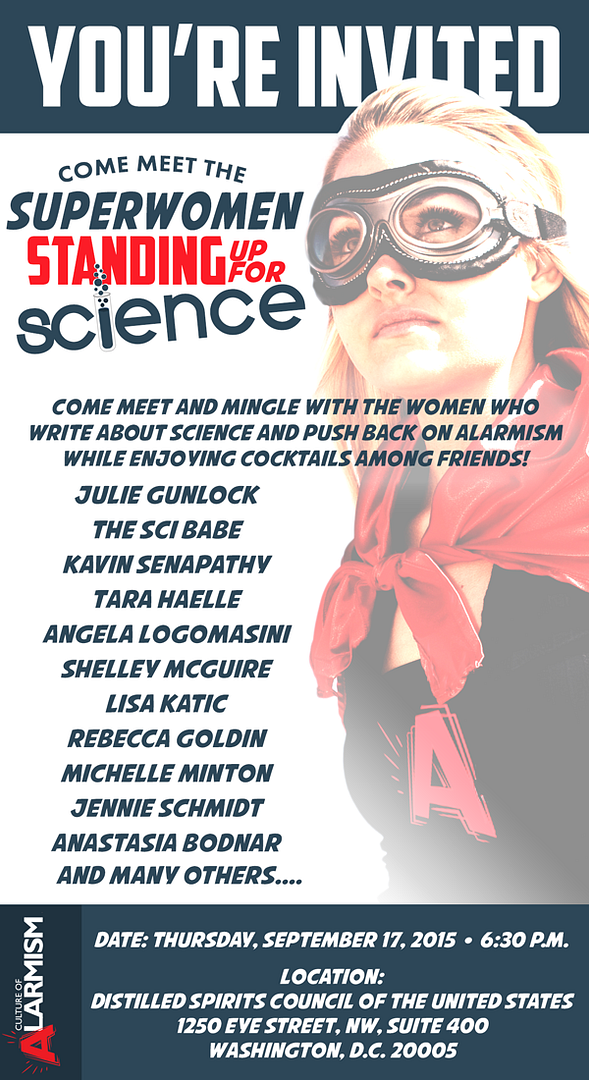 Western Conservative Summit
When:
June 26 2015
Details: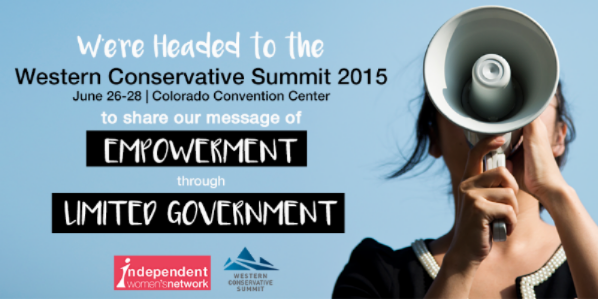 Northeast Republican Leadership Conference
When:
June 18 2015
Details: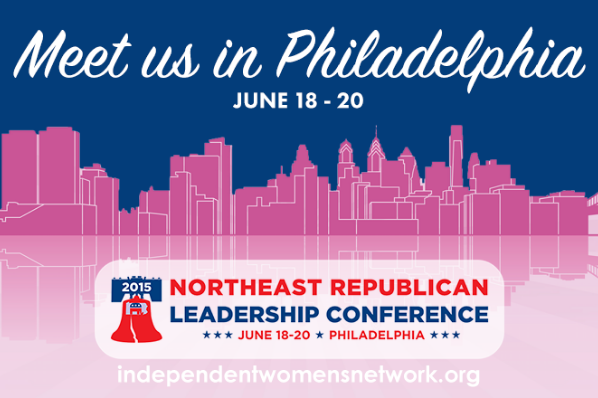 Women LEAD Summit
When:
June 4 2015
Details:


The Independent Women's Forum is hosting Women LEAD, a summit on Thursday, June 4th, at the American Institute of Architects (1735 New York Avenue, NW) in Washington, DC.

Doors open at 12:15PM and lunch will be served.
From 12:30PM to 5:30PM Women LEAD Summit is packed with dynamic panels as well as several speakers to talk about the progressive women's landscape, messaging on women and the workplace, and moving forward with a positive agenda for women.

We have announced a number of stellar speakers including Senator Deb Fischer, Christina Hoff Sommers, Katie Pavlich, Kellyanne Conway and more.

Don't miss the networking reception from 5:30PM to 7:00PM.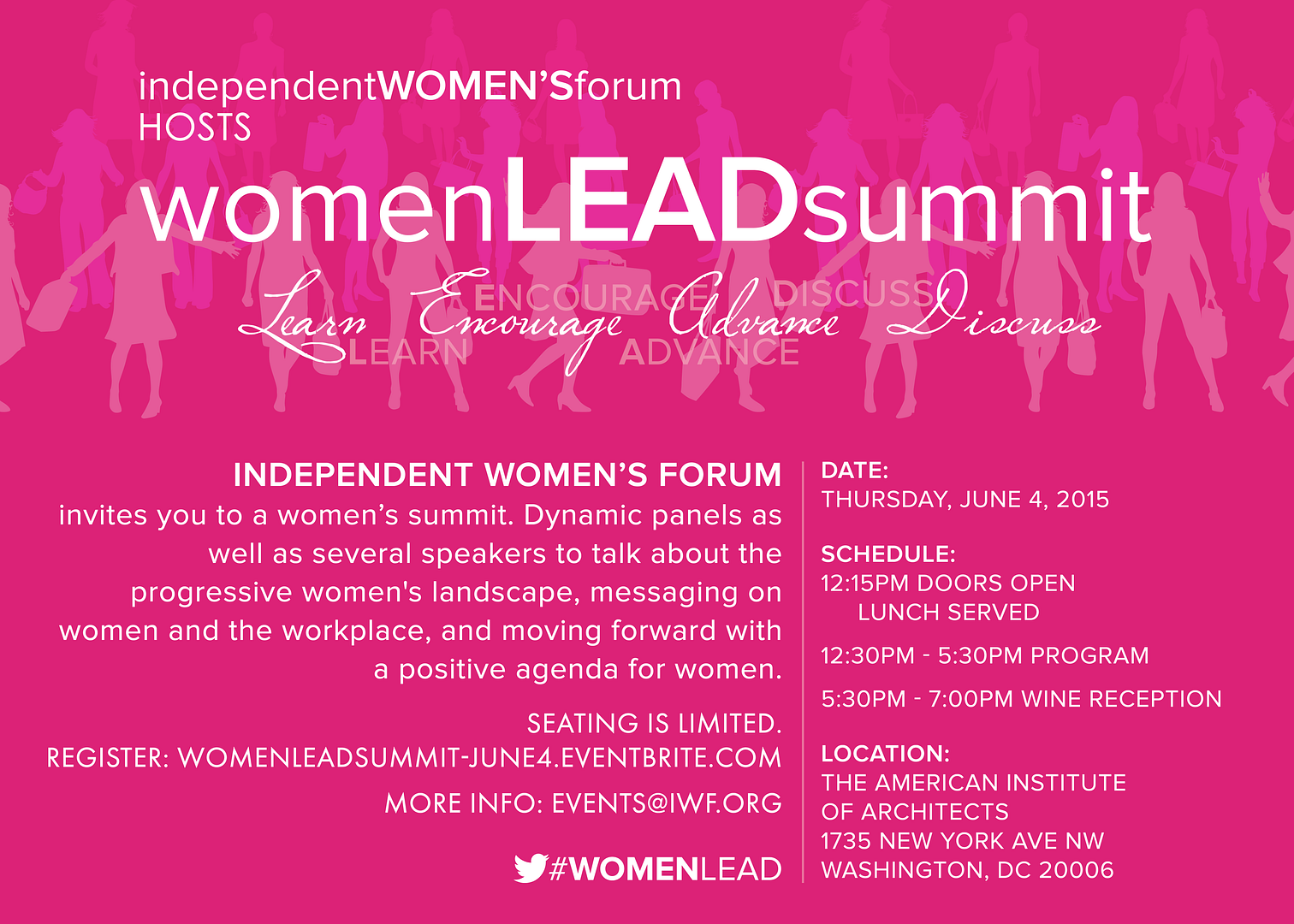 ---
SPEAKERS
---
QUESTIONS
MEDIA • Celia.Meyer@iwf.org
SPONSORSHIP OPPORTUNITIES • Amber.Schwartz@iwf.org
I Do...or I Don't: The Future of Marriage
When:
May 13 2015
Details:

We are excited to announce that we have rescheduled the popular I Do...or I Don't: The Future of Marraige panel event. Please RSVP as seating is limited.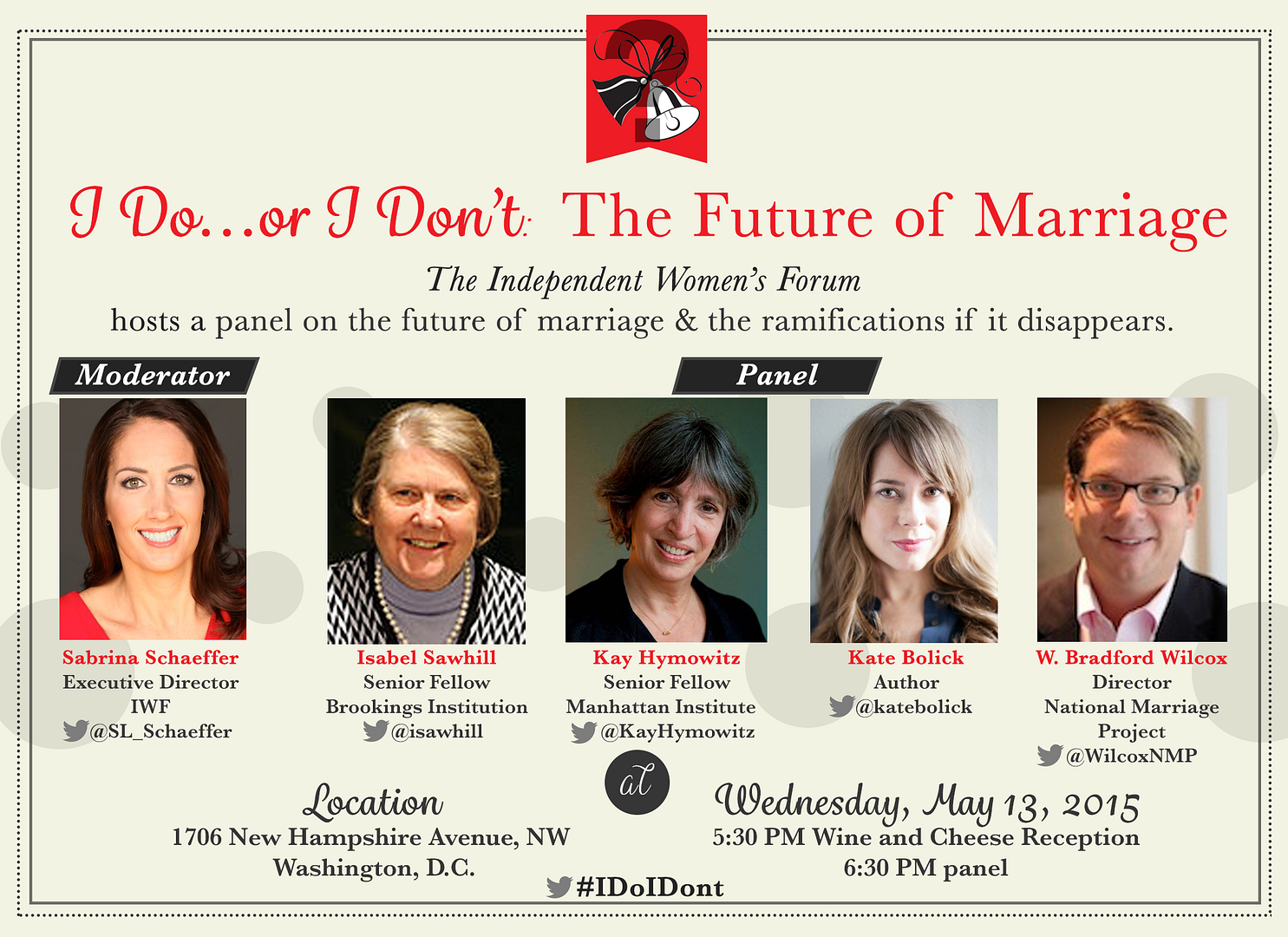 MODERATOR
Sabrina Schaeffer, Executive Director, The Independent Women's Forum
PANELISTS
Isabel V. Sawhill, whose latest book is Generation Unbound: Drifting into Sex and Parenthood without Marriage, is co-director of the Center on Children and Families at the Brookings Institution
Kay S. Hymowitz, whose four books on the family include Marriage and Caste in America: Separate and Unequal Families in a Post-Marital Age, is the William E. Simon Fellow at the Manhattan Institute
Kate Bolick, whose book Spinster: Making a Life of One's Own has just come out, is a contributing editor at The Atlantic, where her much-discussed aticle "All the Single Ladies" appeared
W. Bradford Wilcox is Director of the National Marriage Project at the University of Virginia, an associate professor of sociology at the university and coauthor of Gender and Parenthood: Biological and Social Science Perspectives
IWN Colorado Kickoff: Women, Business, & Government Overregulation
When:
May 6 2015
Details: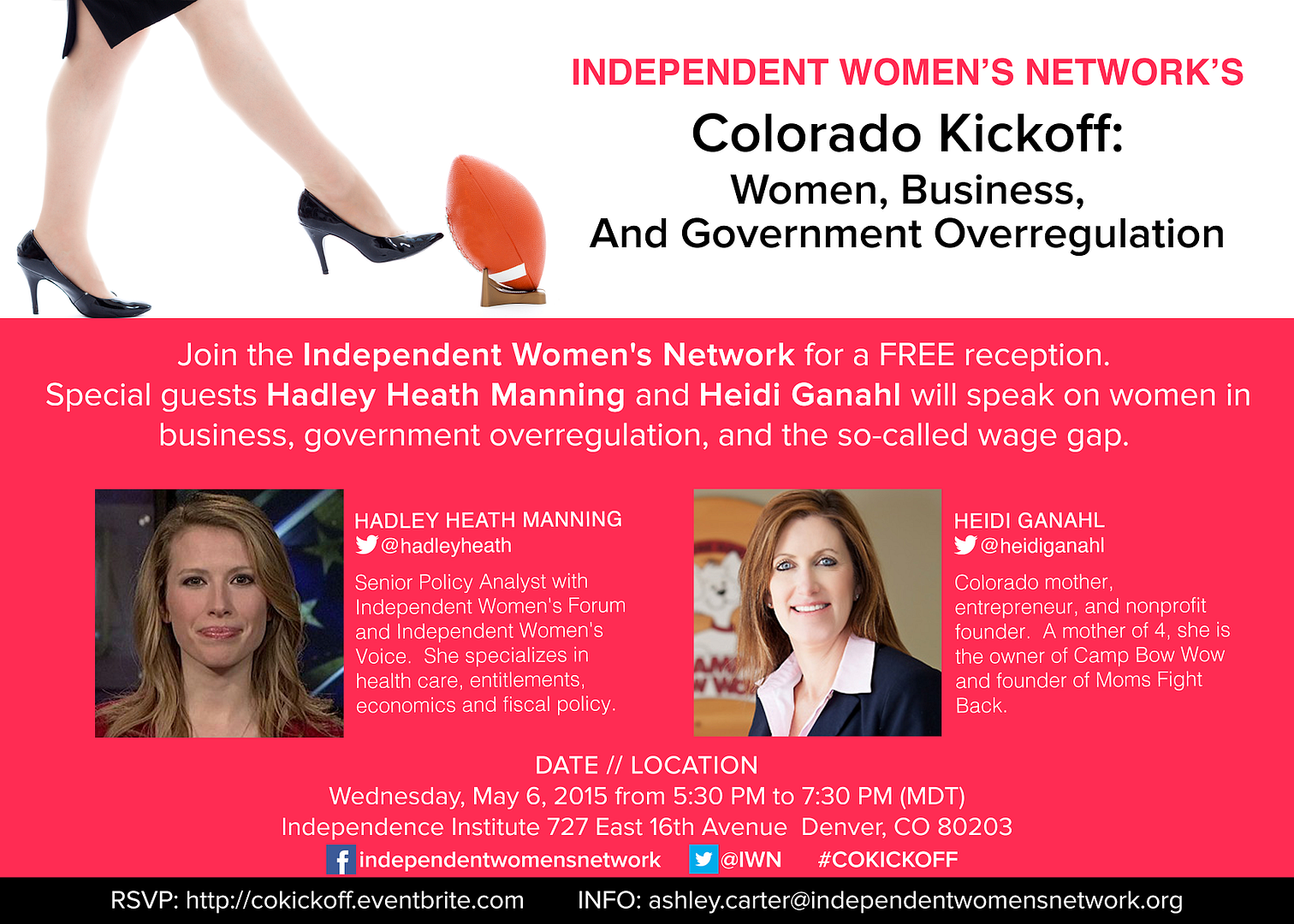 Join the Independent Women's Network for a FREE reception on May 6th! Special guests Hadley Heath Manning and Heidi Ganahl will speak on women in business, government overregulation, and the so-called wage gap.
Heidi Ganahl is a Colorado mother, entrepreneur, and nonprofit founder. A mother of 4, she is the owner of Camp Bow Wow and founder of Moms Fight Back. Heidi has triumphed over adversity with the loss of her young husband in a tragic plane crash and losing a $1 million insurance settlement to create one of the fastest growing franchises in the US and Canada. She fought government overregulation to transform a small company into an $80 million dollar business with more than 200 franchisees in 40 states and Canada. Heidi's story is one of struggle and her journey inspirational to all would-be entreprenuers.
Hadley Heath Manning is a Senior Policy Analyst with Independent Women's Forum and Independent Women's Voice. She specializes in health care, entitlements, economics and fiscal policy. Hadley appears frequently in radio and TV outlets across the country, including Fox Business' Cavuto on Business, Stossel Show, Fox News' Hannity, Your World with Neil Cavuto, and PBS's To the Contrary among others. Her work has been featured in publications including the Wall Street Journal, Forbes, POLITICO, Roll Call, Real Clear Policy, the Tampa Tribune, National Review Online, Daily Caller and Townhall.com.
RSVPS are requested. Beverages and light bites will be served.
Committee for Economic Development: Spring Policy Conference
When:
April 22 2015
Details:

CED Spring Policy Conference
April 22
Willard InterContinental Hotel • Washington DC
3:00 - 4:00 p.m.
U.S. and Global Debt: Finding Stability in an Indebted World
A recent McKinsey Global Institute report shows that seven years after the financial crisis, total global debt (public and private) has continued to grow, rising by $57 trillion since 2007. The U.S. debt situation looks relatively positive compared with other countries, as there has been substantial debt reduction in the private sector, although offset by the continued rise in government debt. Most other countries have seen growth of both private-sector debt and public sector debt. A range of countries have reached new peaks in household debt, in Northern Europe, Canada, Australia, and Singapore. In China, total debt has quadrupled since 2007, driven by a soaring, debt-financed real estate market. And in global corporate finance, there has been a dramatic shift in sources of debt from the banking sector to non-bank intermediaries. Does all this point to the risk of another debt crisis? This panel will discuss today's US and global debt landscape, the driving forces affecting both the public and private sectors, where the risks remain (and are emerging), and how to promote financial stability in an increasingly indebted world.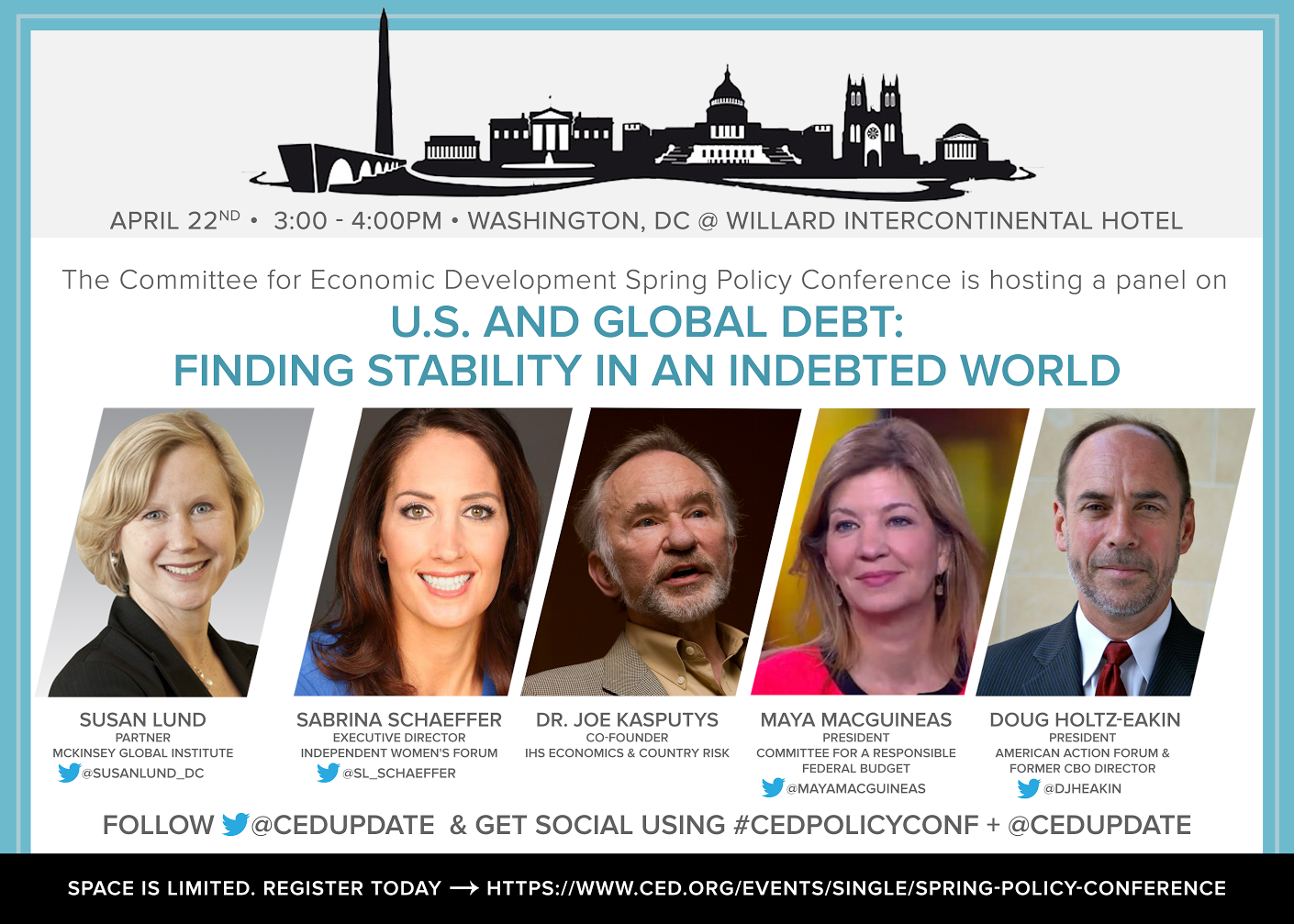 Panel:
Sabrina Schaeffer • Executive Director, Independent Women's Forum
Dr. Joe Kasputys • Co-Founder, IHS Economics & Country Risk, Inc.
Maya MacGuineas • President, Committee for a Responsible Federal Budget
Doug Holtz-Eakin • President, American Action Forum and former CBO Director
Moderator:
Susan Lund • Partner, McKinsey Global Institute
IWN/Turning Point: Equal Pay Day
When:
April 14 2015
Details:

Independent Women's Forum Senior Editor Charlotte Hays will discuss the phony, feminist holiday, the wage gap, and what you can do to promote the message that women do not need more government to succeed.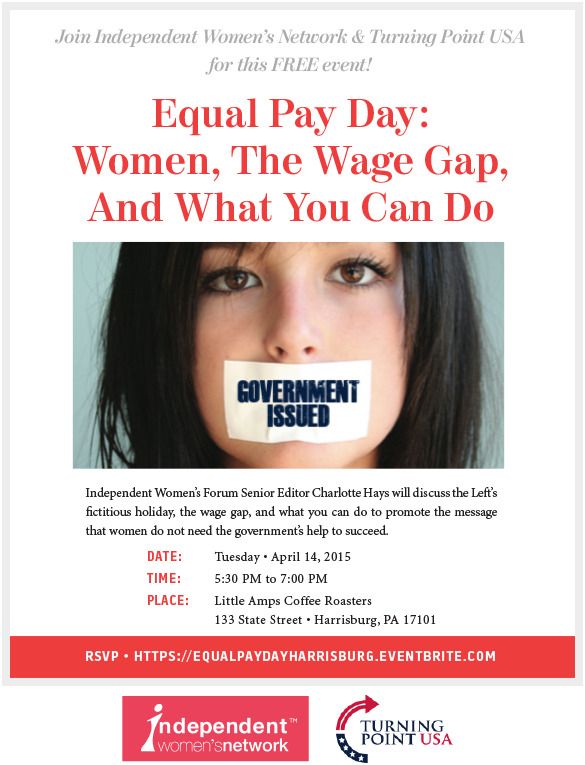 2015 Conservative Leadership Conference
When:
March 27 2015
Details: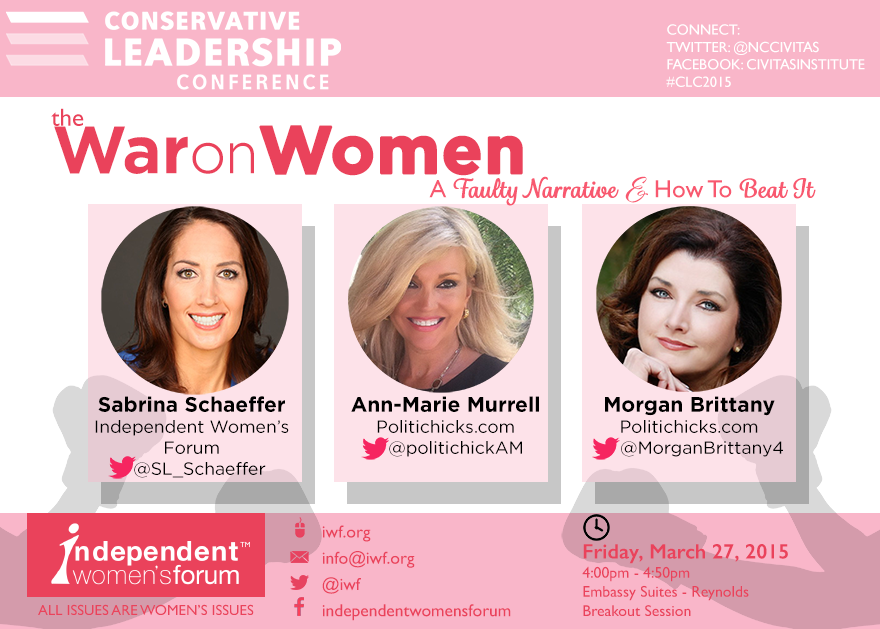 Friday, March 27, 2015
4:00pm - 4:50pm
Embassy Suites - Rynolds
Breakout Session
Speakers
Morgan Brittany
Co-Owner of Politichicks.com
Morgan Brittany has been a film, television and stage actress for over 50 years. She began her career as a child appearing in the films "The Birds", "Gypsy" and "Yours, Mine and Ours". She appeared in over 150 television shows and became a member of the cast of the enormously successful show "Dallas". Morgan spent 10 years raising money for the March of Dimes as a celebrity ambassador and national... Read More →
Ann-Marie Murrell
CEO and Editor in Chief of Politichicks.com
Ann-Marie Murrell is the CEO and Editor-in-Chief of PolitiChicks.com, which was nominated at CPAC 2013 as the "People's Choice Blogger of the Year". She received Front Page Magazine's Glazov Gang Ronald Reagan Award for 2014. Ann-Marie is the co-author of the new bestselling book, "What Women (Really) Want" written with her PolitiChicks anchors, Morgan Brittany and Dr. Gina Loudon. She has... Read More →
Sabrina Schaeffer
Executive Director, Independent Women's Forum
Sabrina L. Schaeffer is the executive director of the Independent Women's Forum. She was the the managing partner of Evolving Strategies, served as the speechwriter for Senator George Voinovich of Ohio, the Director of Media Relations and Public Affairs at the Republican Jewish Coalition in Washington, DC, where she frequently served as a spokeswoman for the organization, and a member of the communications team for Bob... Read More →
War No More Panel Discussion
When:
March 16 2015
Details:

War No More
Hosted by Concerned Women for America
Panel discussion on the "War on Women."
Why it's untruthful, unhelpful, and unlickely to succeed.
Monday, March 16, 2015
Capitol Visitors Center, HVC 201
2:00pm - 3:00pm ET
Moderator:
Penny Nance
CEO and President of Concerned Women for America
@PYNance
Panelists:
Carly Fiorina
Chairman of the American Conservative Union Foundation
@CarlyFiorina
Sabrina Schaeffer
Executive Director of Independent Women's Forum
@SL_Schaeffer
Kellyanne Conway
President and CEO of The Polling Company
@KellyannePolls
Cathy McMorris Rodgers (WA-5)
Republican Conference Chair
@cathymcmorris
Join the conversation #WarNoMore
ATR: Doc Fix/SGR 101 Briefing
When:
March 9 2015
Details: