So You Want To Be An Executive Director
When:
January 7 2015
Details:

Date/Time
Date(s) - 01/07/2015
12:00 pm - 1:00 pm
Location
Charles Koch Institute
If you are a young professional who wants to pursue a leadership role or management role in the liberty movement, join America's Future Foundation on Wednesday, January 7, 2015 for the inaugural career development series of the New Year featuring Sabrina Schaeffer of the Independent Women's Forum and the Institute for Humane Studies' Chad Thevenot! Panelists will bring unique perspectives to a luncheon discussion about how to manage and lead nonprofits from an executive director's standpoint.
Find out how to distinguish yourself as a leader early on in your career, maximize opportunities, and gain influence!
Expert advice and lunch will be provided.
Speakers:
Sabrina L. Schaeffer, Executive Director, Independent Women's Forum
Chad Thevenot, Institute for Humane Studies
Roger Custer, America's Future Foundation (Moderator)
A special thanks to the Charles Koch Institute for hosting this event.
2014 IWF Woman of Valor Dinner
When:
November 19 2014
Details:


GET YOUR TICKETS TODAY!!
CLICK HERE FOR MORE DETAILS & TO PURCHASE TICKETS

Happy Hour with Carly Fiorina & Sabrina Schaeffer
When:
October 13 2014
Details: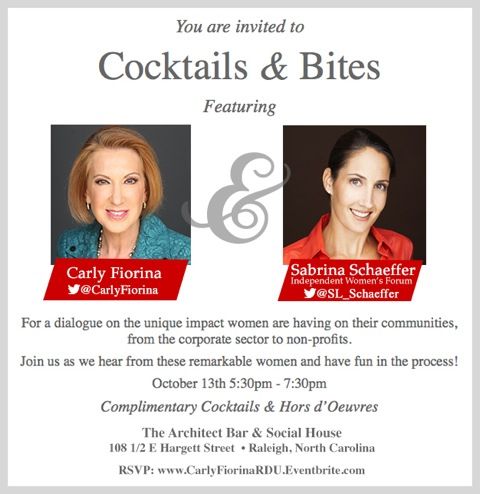 Lean Together: Improving Economic Opportunities for Women and their Families
When:
September 24 2014
Details:

For too long, progressives have dominated the policy agenda in Washington with a vision of America in which government is the solution to every problem. Lean Together, a new book by the Independent Women's Forum, puts forth a positive agenda in which republican ideals of limited government, virtue, and self-improvement are re-imagined. Written entirely by women, the book offers concrete policy solutions to challenges that confront America and especially women and their families to rein in the progressive state, streamline government, and strengthen our economy.
Join us as four of Lean Together's authors discuss how to improve economic opportunities for women and their families in America. Copies of Lean Together will also be available for purchase.
Hosted By:
Genevieve Wood | Senior Contributor, The Daily Signal
Speakers:
Romina Boccia | Grover M. Hermann Fellow in Federal Budgetary Affairs, The Heritage Foundation
Diana Furchtgott-Roth | Director of Economics21 and Senior Fellow, The Manhattan Institute for Policy Research
Julie Gunlock | Director of the Culture of Alarmism Project, Independent Women's Forum
Sabrina Schaeffer | Executive Director Independent Women's Forum
NYC BOOK LAUNCH PARTY & DISCUSSION: Lean Together
When:
September 17 2014
Details: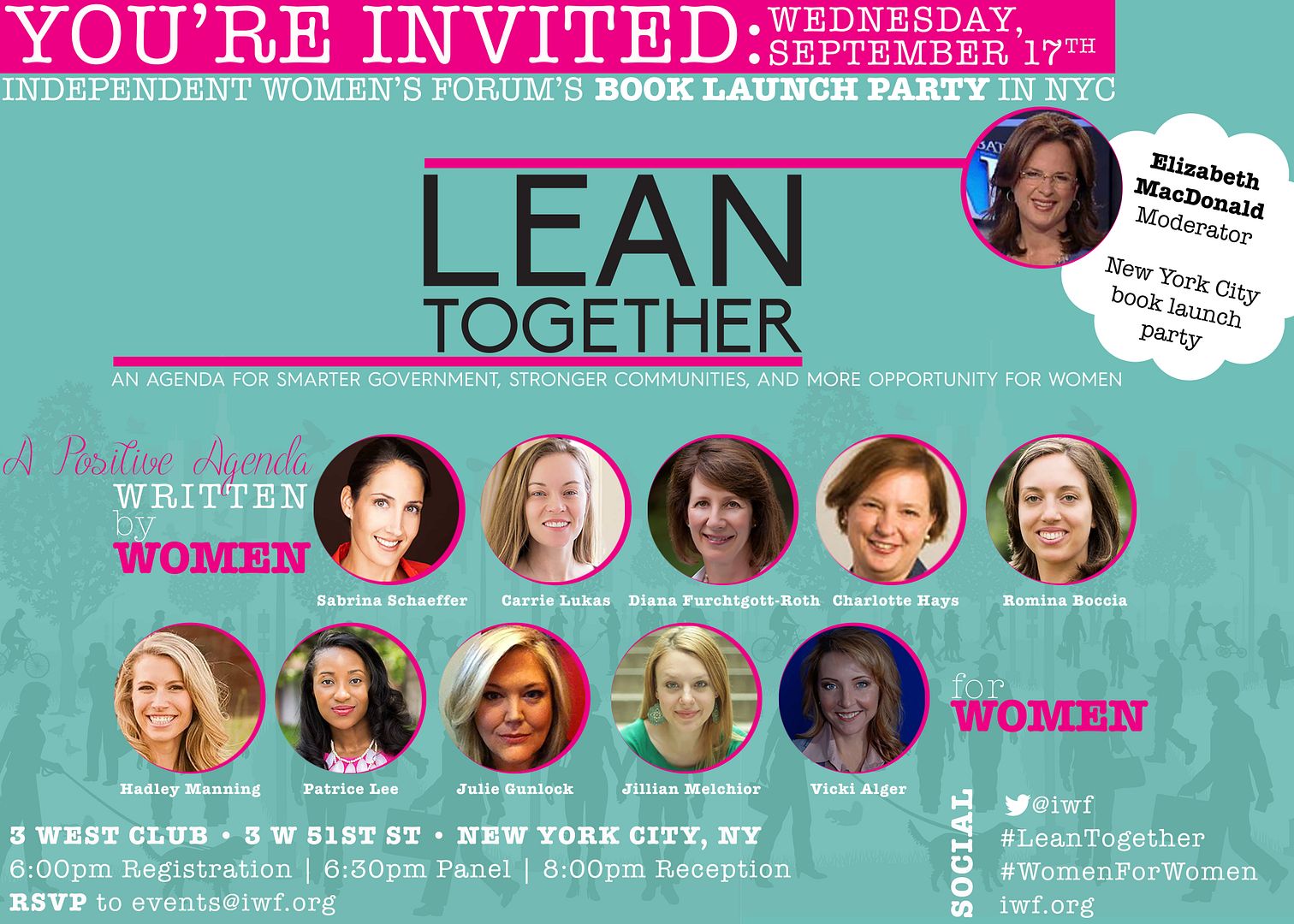 DC BOOK LAUNCH PARTY & DISCUSSION: Lean Together
When:
September 10 2014
Details: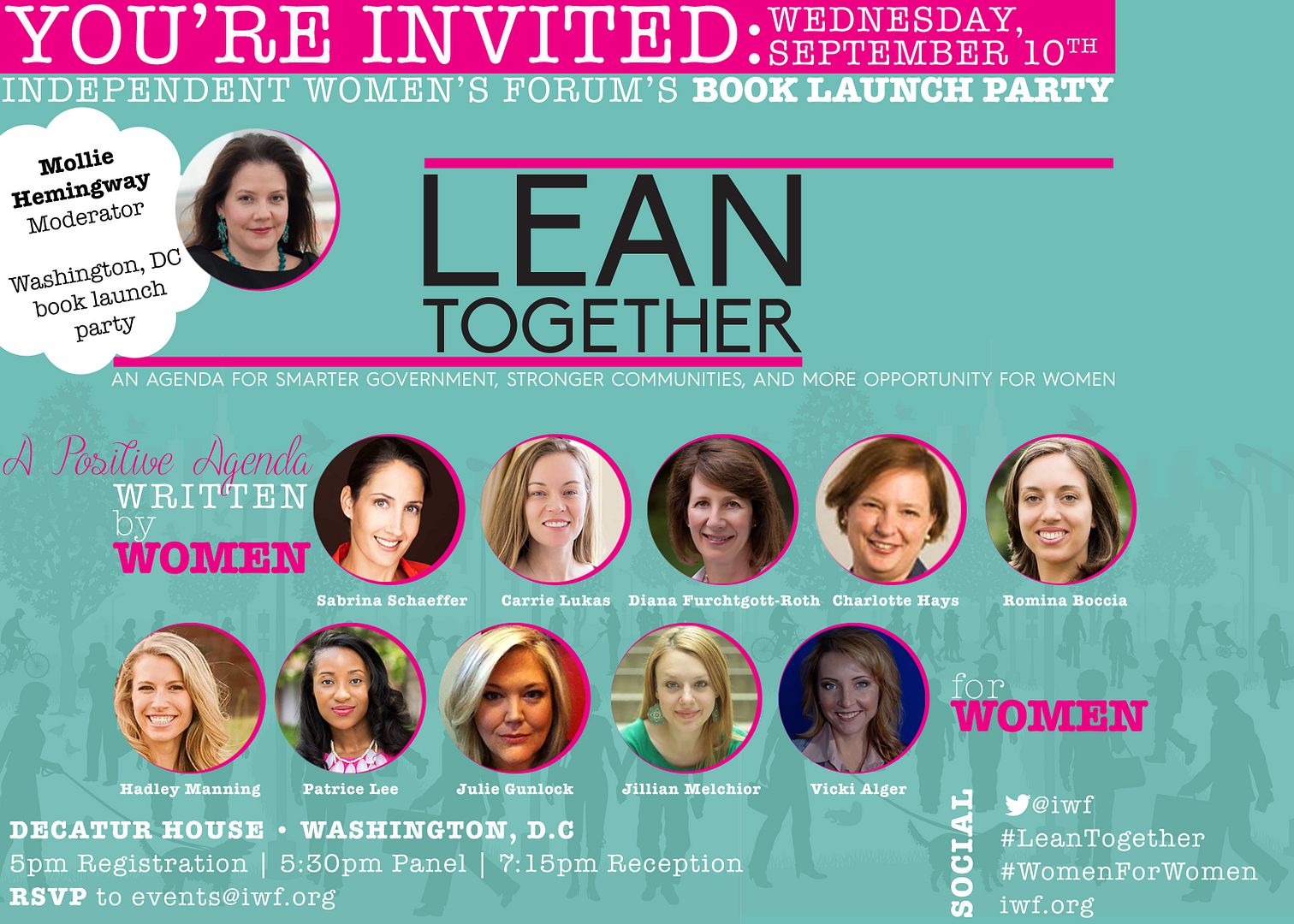 Smart Girl Summit: A Safety Net, But Not a Trap, That Empowers Americans
When:
August 2 2014
Details:

SATURDAY, AUGUST 2
1:30pm ET "A Safety Net, But Not a Trap, That Empowers Americans"
PATRICE LEE
Senior Fellow, Independent Women's Forum

MORE DETAILS: AGENDA, SPEAKERS HERE
FreedomFest 2014: IW PANEL Making Markets Sexy
When:
July 11 2014
Details:

Public opinion is largely influenced by elite discourse. Voters form their opinions about everything from health care to workplace regulations to foreign affairs from a narrow group of policy experts in the news and in their communities. Too often, however, political communication is heavily one-sided. And this is especially the case when it comes to addressing women. For too long the conversation has been entirely directed by liberal women's groups, with almost no response from the liberty movement. But we know that when people receive a competing argument, it's disrupting. It leads to ambivalence, and it actually causes voters to seek out more information. The Free Market Movement needs to increase the number of women who understand and value limited government. Join the women of IWF for a conversation about why we need to speak to women, what that alternative message is, and how we go about reaching more women.
RSC: Conservative Women's Panel Discussion
When:
July 11 2014
Details:


Chairman Scalise invites you to a
Conservative Women's Panel Discussion
On July 11th, 2014 from 12:00pm – 1:30pm
Moderated by
Kim Strassel, The Wall Street Journal
Confirmed Panelists:
Rep. Kristi Noem
Rep. Ann Wagner
Rep. Marsha Blackburn
Rep. Diane Black
Rep. Renee Ellmers
Rep. Cynthia Lummis
Fmr. Rep. Marilyn Musgrave, Susan B. Anthony List
Charmaine Yoest, Americans United for Life
Mattie Duppler, Americans for Tax Reform
Alex Smith, College Republican National Committee
Amber Barno, Independent Women's Forum
Introductory remarks by RSC Chairman Steve Scalise
What: A panel discussion on the issues facing conservative women featuring RSC Members
and leading female voices in the conservative movement.
Where: Rayburn House Office Building, Room 2226
Time: 12:00pm-1:30pm
Panel: 12:00pm-1:00pm
Reception: 1:00pm-1:30pm
*Refreshments will be served*
Please R.S.V.P. as soon as possible to
Kelley Hudak with the RSC:
###
Straight Talk: An Honest Conversation About Rape Culture and Sexual Violence
When:
June 26 2014
Details: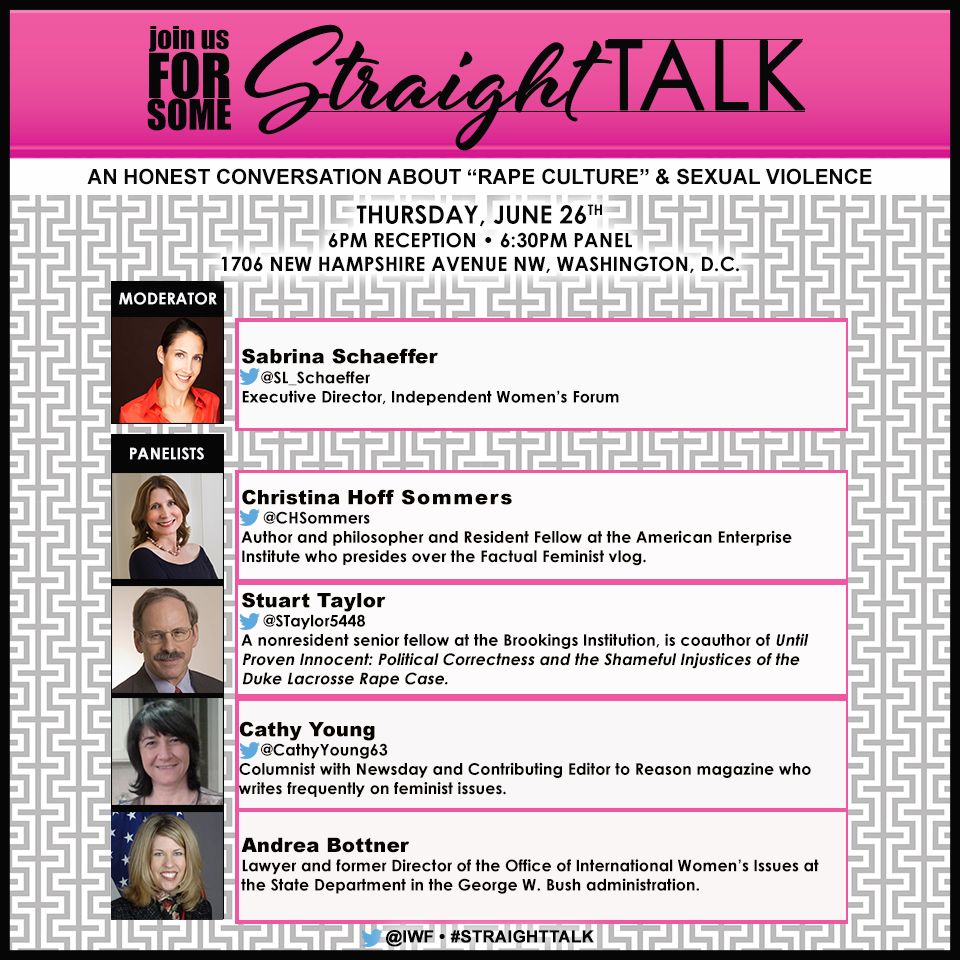 We take any accusation of sexual conduct seriously. But we must ask: Is there a hysteria developing about rape on campus? Where does it come from? Where is it going? Who will be harmed?
Independent Women's Forum invites you to join an all-star panel that will answer these questions.
Moderator:
Sabrina Schaeffer • Executive Director, Independent Women's Forum
Panelists:
Christina Hoff Sommers • Author and philosopher and Resident Fellow at the American Enterprise Institute who presides over the Factual Feminist vlog
Stuart Taylor • A nonresident senior fellow at the Brookings Institution, is coauthor of Until Proven Innocent: Political Correctness and the Shameful injustices of the Duke Lacrosse Rape Case
Cathy Young • Columnist with Newsday and Contributing Editor to Reason magazine who writes frequently on feminist issues

Andrea Bottner • Lawyer and former Director of the Office of International Women's Issues at the State Department in the George W. Bush administration
Biotechnology Industry Organization: BIO International Convention
When:
June 25 2014
Details:

Mom to Mom: a Q&A about GMOs
Wednesday, June 25, 2014
2:00 p.m. - 3:15 p.m. PDT
Moderator:
Cathy Enright, BIO Executive Vice President, GMO Answers spokesperson

Panelists:
Denneal Jamison-McClung • Associate Director, UC Davis Biotechnology Program
Jennie Schmidt • Maryland Farmer and registered dietitian
Julie Gunlock • Culture of Alarmism Program Director, Independent Women's Forum

NeW National Conference: Offering Alternatives to the Life of Julia
When:
June 20 2014
Details:

OFFERING ALTERNATIVES TO THE LIFE OF JULIA
Friday, June 20, 2014
3:00 p.m. - 3:45 p.m. ET

Panelists:
April Ponnuru • YG Network
April Ponnuru is the Policy Director for the YG Network. Ms. Ponnuru has extensive experience on Capitol Hill, where she has served in both US House and Senate leadership offices. Prior to joining YG Network, she served as a senior advisor to Senate Republican Conference Vice Chairman Roy Blunt (R-MO). She was also a senior policy advisor to Blunt when he was House Majority Whip. Ms. Ponnuru is the former Executive Director of the non-profit National Review Institute, founded by William F. Buckley, Jr., and was National Review magazine's Vice President. To read more about Ms. Ponnuru, visit http://ygnetwork.org/about-yg/april-ponnuru/.
Sabrina Schaeffer • Independent Women's Forum
Sabrina Schaeffer is the executive director of the Independent Women's Forum. She was the managing partner of Evolving Strategies, served as the speechwriter for Senator George Voinovich of Ohio, Director of Media Relations and Public Affairs at the Republican Jewish Coalition in Washington, DC, where she frequently served as a spokeswoman for the organization, and a member of the communications team for Bob McEwen's campaign in Ohio's second district. Ms. Schaeffer previously served as a director at the White House Writers Group, working extensively on designing and orchestrating projects for a range of intellectual, government, and corporate clients. To read more about Ms. Schaeffer, visit http://www.iwf.org/about/sabrina-schaeffer.
Genevieve Wood • The Heritage Foundation
Genevieve Wood advances policy priorities of The Heritage Foundation as senior contributor to The Foundry, which the think tank is repositioning in 2014 from blog to top media brand for news, analysis and commentary from a conservative perspective. Ms. Wood functions as leading voice and representative for The Foundry, producing regular commentary and making media appearances to explain and promote Heritage's key policy solutions for the most critical issues to Americans. As a commentator, Wood has appeared on CNN, MSNBC and Fox News Channel and on programs such as CBS' "Face the Nation." To read more about Ms. Wood, visit http://www.heritage.org/about/staff/w/genevieve-wood.
VIEW COMPLETE FRIDAY AGENDA HERE
FULL LIST OF CONFERENCE SPEAKERS
IWF Movie Night: Dog Days
When:
June 18 2014
Details: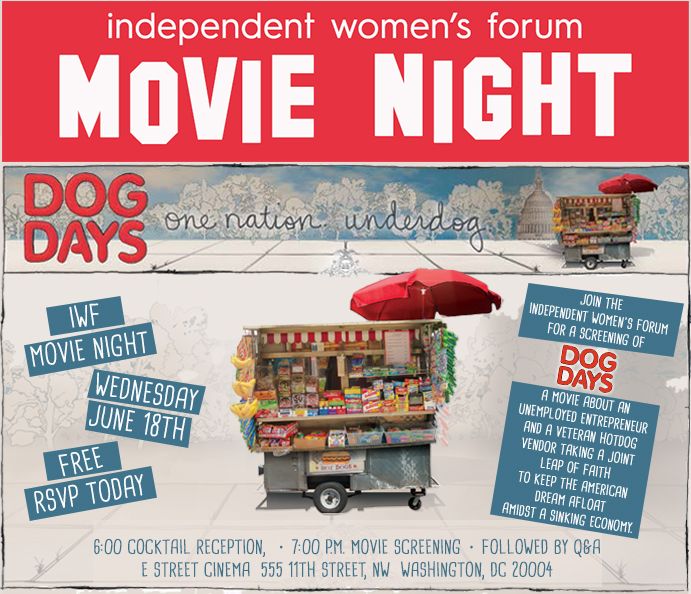 Join the Independent Women's Forum on Wednesday, June 18th, for movie night screening of Dog Days.
Dog Days is directed and produced by Laura Waters Hinson and Kasey Kirby, a filmmaking duo based in Washington, DC. After losing his job in 2009, Coite Manuel sets off to build his dream business with the help of two unlikely women: Deane, his harp-playing aunt, and Siyone, an East African hotdog vendor and single mother of four. Staking his meager life savings on a vision to revive Washington, D.C.'s dwindling hotdog vending community, Coite faces bewildering challenges, from hostile city regulations to an entrenched local monopoly to the sudden popularity of food trucks. Even though success doesn't come easily, the characters fight to maintain hope in the face of adversity.
The film was made in association with the Moving Picture Institute. See more about the film here.
6:00 p.m. ET Cocktail Reception
7:00 p.m. ET Movie Screening
E Street Cinema • 555 11th Street, NW • Washington, DC 20004
American Association of Political Consultants Regional Conference
When:
June 11 2014
Details:

AAPC's Regional Conference
June 10-11, 2014 Austin, TX
AT&T Executive Education and Conference Center
Wednesday, June 11, 2014
Courtesy of: CANVAS FILMS
In 2012, the gender gap in voting was the largest in history. As we move into the 2014 midterm elections and beyond, will this trend continue and what does it mean for your candidate or cause? What are the characteristics of an "independent" woman voter? Join us for an engaging panel discussion that will examine:
• How candidates from each party communicate with women
• Tactics Democrats and Republicans are using to shore up women's votes and find messages that resonate
• Factors that may impact turnout such as legislation and women candidates
Moderator:
Karen Brooks Harper, Credentials Media
Panelists:
Liz Chadderdon, The Chadderdon Group
Emmy Ruiz, Annie's List
Sabrina Schaeffer, Independent Women's Forum
Holly Turner, Stampede Consulting
2015 Dietary Guidelines: Political Agendas or Sound Nutrition?
When:
May 29 2014
Details:

THURSDAY, May 29, 2014
12:00 p.m. - 1:30 p.m.
Rayburn House Officen Building B-369
45 Independence Avenue SW
Washington, DC 20515
12:00 - 12:10 p.m.
Opening remarks by Congressman Reid Ribble (R-WI)
12:10 - 12:30 p.m.
Presentation by Hanns Kuttner, senior fellow at the Hudson Institute, on his paper on the Dietary Guidelines Advisory
12:30 - 1:00 p.m.
Commentary by Tevi Troy, adjunct fellow at the Hudson Institute, and Julie Gunlock, director of the Culture of Alarmism project at the Independent Women's Forum.
1:00 - 1:30 p.m.
Open discussion
RSVP HERE

Every five years, a federal panel re-writes the Dietary Guidelines for Americans, which constitutes Washington's official nutrition policy. These guidelines, developed in tandem by HHS and USDA, are to be "based on the preponderance of scientific and medical knowledge currently available," and dictate the government's approach to food stamps, school lunches, and food procurement for the military.
Official recommendations for the 2015 dietary guidelines are currently being developed by 15 members of the Dietary Guidelines Advisory Committee (DGAC). But this time the committee has apparently taken the unusual step of expanding the scope of its mission into issues like sustainability and plant-based diets rather than focusing on its core purpose of providing sound, scientifically-based advice for a well-balanced set of dietary options accessible to the general public.

The rationale for the federal government to provide advice on diet rests on the ability of that advice to improve health outcomes. However, by wading into peripheral policy areas tangential to the eating habits of most Americans, the government risks undermining its ability to speak clearly and effectively to most Americans—potentially making for a less healthy America.

Please join Congressman Reid Ribble (WI-08), a member of the House Committee on Agriculture, and scholars from Hudson Institute and the Independent Women's Forum for a discussion of the 2015 Dietary Guidelines for Americans and the implications of the DGAC's current direction.
This event will be held in the Rayburn House Office Building.

Lunch will be served.
Have questions about 2015 Dietary Guidelines: Political Agendas or Sound Nutrition? Contact Hudson Institute