womenLEAD Summit
When:
May 16 2017
Details: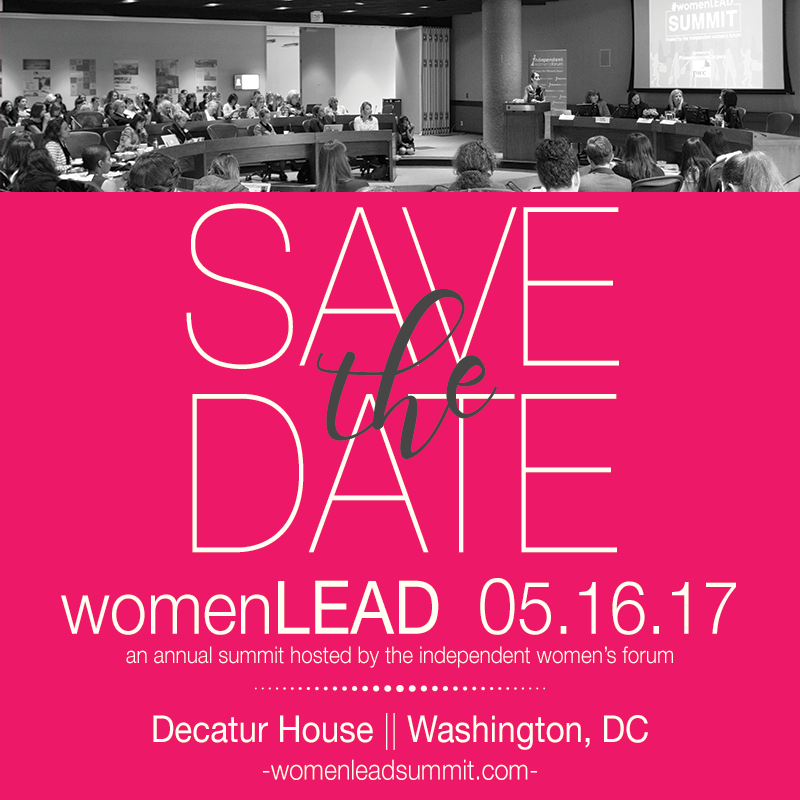 Save the date! Independent Women's Forum's annual womenLEAD Summit date has been set! On Tuesday, May 16th, join us in Washington, DC, for a day packed with dynamic panels, networking, and fun.
Questions? Please email Ashley Carter.
The Future is Now: School Choice and Other Reforms in 2017
When:
April 13 2017
Details: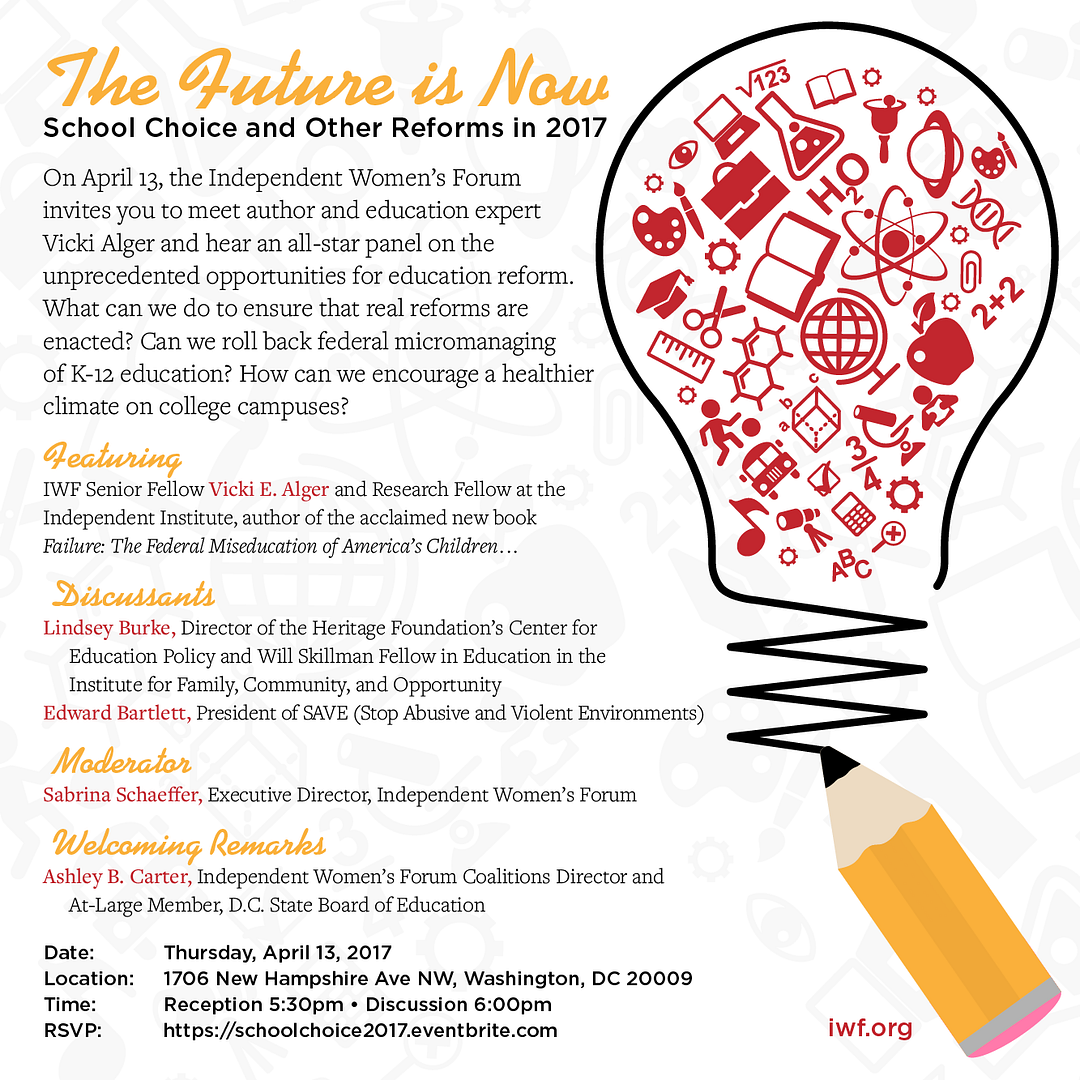 The Future is Now: School Choice and Other Reforms in 2017
On April 13, the Independent Women's Forum invites you to meet author and education expert Vicki Alger and hear an all-star panel on the current and unprecedented opportunities for education reform. What will real reform look like? Will headwinds from entrenched interests limit opportunities?
We all saw the outrage of teacher unions and their allies when a supporter of school choice became the new secretary of education. What can we do to ensure that real reforms are enacted? Can we roll back federal micromanaging of K-12 education? How can we encourage a healthier climate on college campuses?
AEI Shaping the Conversation
When:
April 4 2017
Details:

Tuesday, April 4, 2017 | 9:00–11:00 AM
AEI, Auditorium | 1789 Massachusetts Avenue, NW | Washington, DC 20036

Shaping the conversation: What new data show about Americans' attitudes toward and experiences with paid family leave.
Join AEI for an event exploring two new Pew Research Center surveys that provide nonpartisan data on Americans' views of and experiences with family and medical leave.
RSVP
Watch Live Online

To watch live online, click here on April 4 at 9:00 AM ET. Registration is not required.
Join the conversation on social media by following @AEI and @AEIecon on Twitter and Facebook.
Food and Fear: How to Find Facts in Today's Culture of Alarmism
When:
February 16 2017
Details:

Americans are getting mixed messages about food and nutrition. Increasingly, consumers are having trouble finding reliable information. An all-star panel sponsored by the Independent Women's Forum will address food fears and how to find fact- and science-based information in today's culture of alarmism.
Our February 16 panel will explore these questions:
• What are the origins of food fears?
• How have food fears altered consumer behaviors?
• What are good sources for food and nutrition information? Bad source?
• Why are women targeted for fear-based marketing strategies?
• What can the science, medical, agricultural, and academic communities do to help provide consumers better information?
You won't want to miss this discussion!

5:30pm Reception
6:00pm Panel
*Light bites and libations will be served.
Paid Leave in DC: Where Do We Go from Here?
When:
January 11 2017
Details:

The D.C. City Council has voted for the most extreme paid leave policy in the country, but some employers are saying that it could force them to go to other localities. Where do we go from here?
Join the Independent Women's Forum for a special panel to address what this policy will really mean for district workers, employers, and families.
Place: Americans for Tax Reform/ 722 12th St NW # 4, Washington, DC 20005
Time: January 11, Noon (Lunch from Chick-fil-A will be provided)
Panelists: * Carrie Lukas, Managing Director, Independent Women's Forum * Marc Freedman, Executive Director of Labor Policy, U.S. Chamber of Commerce * James Dinegar, President and CEO, Greater Washington Board of Trade * Scott Hoffman, Fourth-generation small business owner in Washington, D.C. * Arianne Bennett, Co-founder, Amsterdam Falafel Shop
Sabrina Schaeffer, Executive Director of IWF, will moderate.
Repeal Day Reception | Competitive Enterprise Institute
When:
December 5 2016
Details:

The Twenty-first Amendment, which repealed Prohibition, was ratified on December 5, 1933. Join us to celebrate that anniversary with a screening of the new short film I, Whiskey: The Human Spirit and a discussion of the threats to personal liberty from the neo-prohibitionists of today.
Competitive Enterprise Institute's
Repeal Day Reception
December 5, 2016
1310 L Street NW, 7th Floor
Washington, D.C. 20005
5:00pm – Reception begins
5:45pm – Screening of I, Whiskey: The Human Spirit
6:00pm – Panel discussion
Featured Panelists
Michelle Minton, Competitive Enterprise Institute
Julie Gunlock, Independent Women's Forum
Kevin Kosar, R Street Institute
IWF's Annual Awards Dinner
When:
November 30 2016
Details:

We are excited to announce that the Independent Women's Forum will honor Carly Fiorina with the 2016 Woman of Valor Award, Cheryl Bachelder, CEO of Popeyes Louisiana Kitchen, with the 2016 Outstanding Woman in Business, and Ed Gillespie with the 2016 Gentleman of Distinction Award at IWF's Annual Awards Dinner on November 30th at Union Station in Washington, DC.

Please mark your calendar! Individual tickets may be purchased online here.
For more information visit http://www.womanofvalorgala.com/

This is sure to be a spectacular evening and we hope you will join us!

For questions about the dinner or sponsorship opportunities, please email Amber Schwartz amber.schwartz@iwf.org.
Does the Middle Class Have a Future?
When:
October 27 2016
Details:

The middle class is the backbone of our country. But it may be in trouble.
An all-star panel - author and American Entreprise Institute scholar Charles Murray, columnist and Third Way senior policy advisor Scott Winship, journalist and visiting fellow at the Foundation for Research on Equal Opportunity ((FREOPP), IWF senior fellow Lisa Schiffren, and author and IWF managing director Carrie Lukas - will explore one of the more pressing questions of our day: Does the Middle Class Have a Future?
WHAT: Does the Middle Class Have a Future
WHEN: Thursday, October 27
WHERE: 1706 New Hampshire Ave. NW | Washington, DC
RESGISTER HERE: middleclass.eventbrite.com
Reasonable Moms Unite
When:
October 19 2016
Details: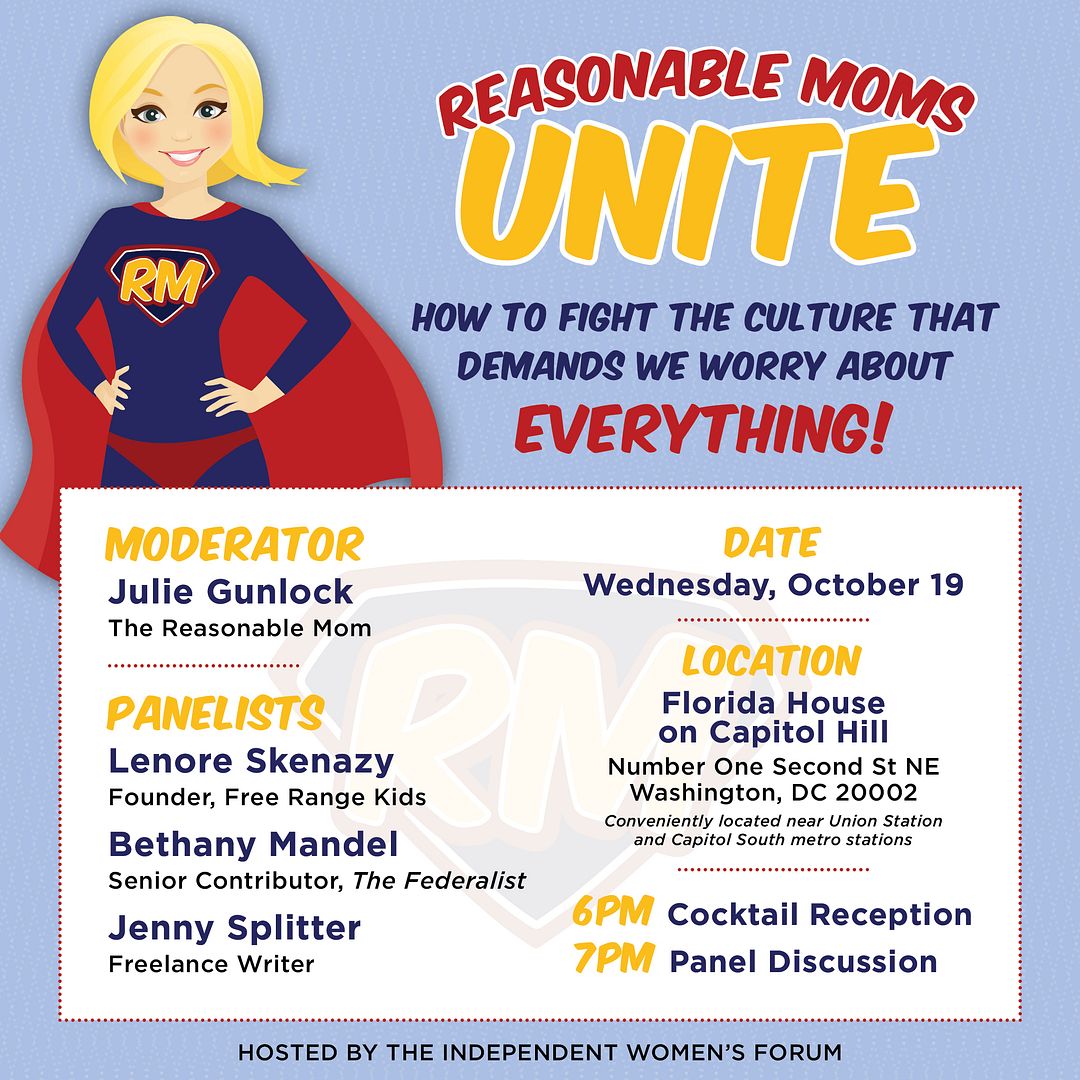 Moms are tired of being told they need to meet impossible standards to be a Good Mom. Women are told they have to cook every meal--from scratch and from expensive organic ingredients. They are told to hover and monitor their child's every activity. Women are encouraged to examine and scrutinize every single thing their child touches, eats, or brushes against. This make parenting harder, exhausting, joyless.

It's time to reject this mentality and create a new category: The Reasonable Mom.

Reasonable Moms do their best. They want to raise their kids without so much fear and anxiety. They want to guiltlessly take shortcuts and allow their kids a treat, but recognize moderation is key. They want society to be less judgmental, and more understanding and supportive of parents. They want to hear from experts, but also want to trust in their own instincts and embrace common sense in parenting.
WHAT: Reasonable Moms Unite: How To Fight The Culture That Demands We Worry About EVERYTHING!
WHEN: Wednesday, October 19th
WHERE: Florida House on Capitol Hill | Number One Second St. NW, Washington, D.C.
*Located near Union Station and Capitol South metro stations
RESGISTER HERE: reasonablemomsunite.eventbrite.com
The Nuisance of Misguided Public Nuisance Litigation • CJAC Issue Briefing
When:
September 28 2016
Details:


Independent Women's Forum is excited to join Civil Justice Association of California for a complimentary luncheon and panel discussion regarding the effect of nuisance litigation on policy, politics, and local government.
WHERE: Cafeteria 15L - Ultra Room
1116 15th Street
Sacramento, CA 95814
REGISTRATION: 11:15am - 11:45am
LUNCH AND PANEL: 11:45am - 1:30pm
PANEL SPEAKERS
Kim Stone • President, Civil Justice Association of California
Usurping the Legislature - How Public Nuisance Litigation Turns Policy Making on Its Head
Julie Gunlock • Director, Independent WOmen's Forum's Culture of Alarmism Project
Exploiting Fear in the Court for Politics and Profit
Tony Dias • Partner, Jones Day
Local Government Use of Public Nuisance
RSVP to Debbie Edgar dedgar@cjac.org or 916.443.4900 or click here >>>
Book Launch Party and Book Signing, The New Trail Of Riley
When:
July 26 2016
Details: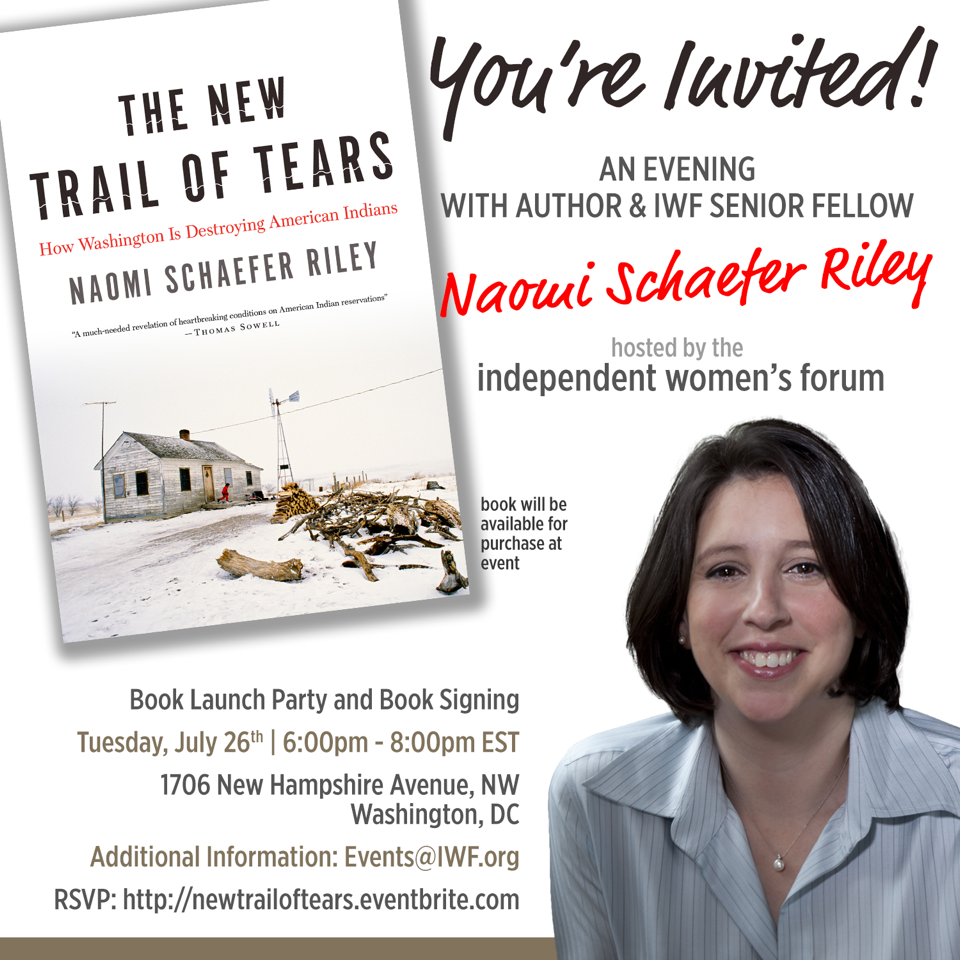 Having It All: An Agenda for Modern Women
When:
July 2 2016
Details:

Young Women's Leadership Summit: Why Women Should Be Leaders In The Conservative Movement
When:
June 13 2016
Details: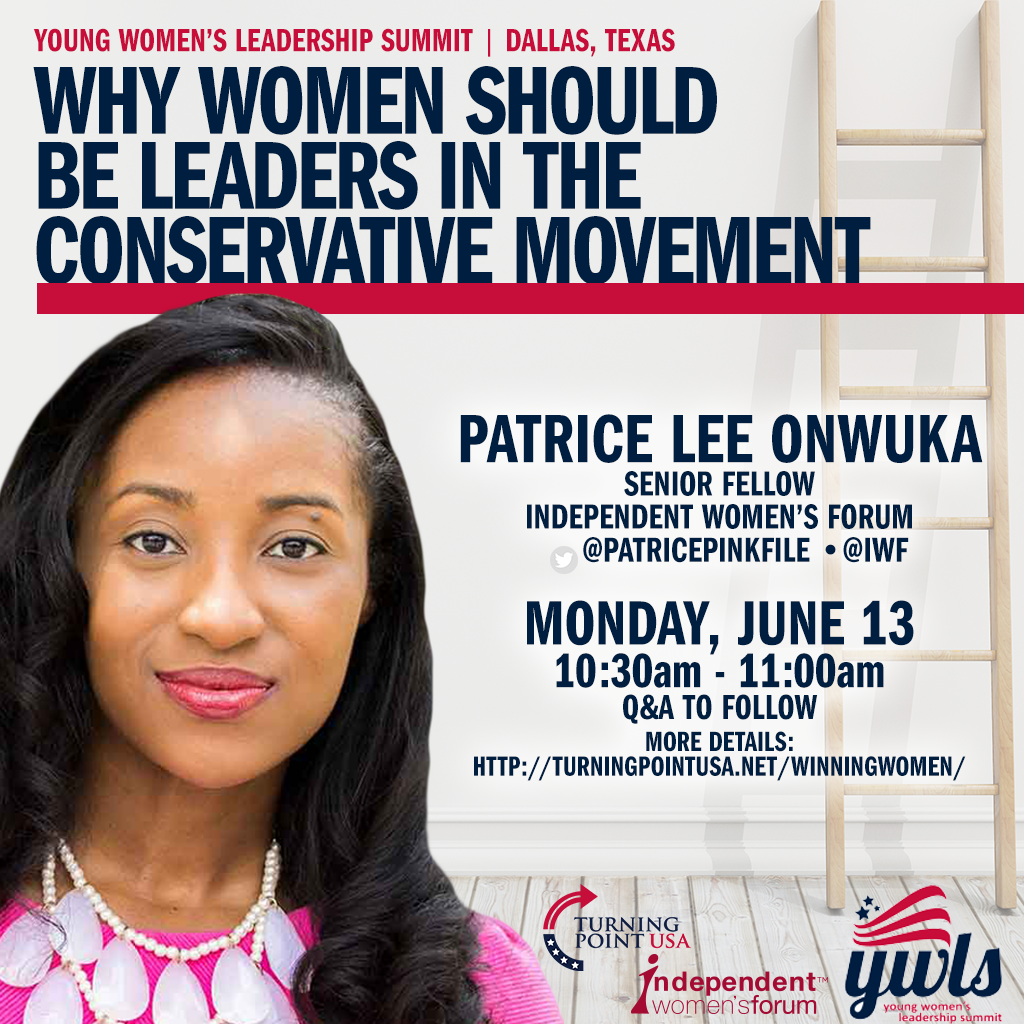 Women LEAD Summit
When:
June 2 2016
Details:

Independent Women's Forum's annual Women LEAD Summit will be held on Thursday, June 2nd. Join IWF for a day packed with dynamic panels as well as solo speakers to talk about women, the workplace, the character of the political leadership, the future of the Supreme Court and more. In addition, several organizations are partnering with us on specific aspects of the day, including a special networking event hosted by State Policy Network, alive show with NRA News' Cam Edwards, and a reception by RightNow PAC.

The summit is being held at the American Institute of Architects (1735 New York Avenue, NW) in Washington, DC.
2016PROGRAM
9:00am
Continental Breakfast
9:30am
Welcome Remarks
Charlotte Hays
9:45am
Views of the Workplace, the Economy, and
Regulations from a Female Entrepreneur
Caren Merrick
10:00am
Presentation of Recognition to the Bradley Foundation
Heather R. Higgins
10:15am
Working for Women:
A Modern Agenda for Improving Women's Lives
(CLICK HERE) to read the report
Moderator
Genevieve Wood
Panelists
Prof. Brian Brenberg
Commissioner Victoria A. Lipnic
Diana Furchgott-Roth
Sabrina Schaeffer
11:15am
Coffee Break
11:30am
Speed Networking
hosted by
Sarah Ferrara
Come meet other like-minded women who share your
modern feminist views, can serve as professional mentors,
and offer advice on work-life balance.
12:00noon
Lunch Buffet
12:30noon
Brief Remarks from
Sabrina Schaeffer
12:45pm
Conversation: The Passing of Justice Scalia and
the Future of the Supreme Court
Moderator
Hadley Heath Manning
Panelists
Megan Brown
Susan Engel
Erin Hawley
1:45pm
The Character of our Political Leadership: Political Civility, Discourse,
and the Impact on Women Voters in the 2016 Election
Moderator
Sabrina Schaeffer
Panelists
Jane Hampton Cook
Mona Charen
James Rosebush
Peter Wehner
2:45pm
Coffee Break and Book Signing in Lobby
3:00pm
(Un)Safe Spaces: IWF Modern Feminists Take On Campus Culture
Moderator
Naomi Schaefer Riley
Panelists
Caroline Kitchens
Patrice J. Lee
Ashe Schow
4:00pm
Coffee Break
4:15pm
Live Radio Show with Julie Gunlock and Cam Edwards
Culture of Alarmism: Scaring You Silly
Moderator
Cam Edwards
Panelists
Commissioner Ann Marie Buerkle
Julie Gunlock
Julie Kelly
5:30pm
Wine Reception
QUESTIONS
MEDIA • Victoria.Coley@iwf.org
SPONSORSHIP OPPORTUNITIES • Amber.Schwartz@iwf.org
Libertarian Party of Boulder County Hosts IWF's Julie Gunlock
When:
May 26 2016
Details:

On May 26, 2016 at 12:30pm MT join the Libertarian Party of Boulder County for a lunch featuring Julie Gunlock, Director,and Senior Fellow of the Independent Women's Forum, for a lunch to discuss the cycle of alarmism and how that leads to more and more onerous regulations on industry and individual choices.
When: May 26, 2016
Time: 12:30pm MT
Where: Carelli's (645 30th Street, Boulder 80303)
Independent Women's Forum's mission is to improve the lives of Americans by increasing the number of women who value free markets and personal liberty. Sister organization of Independent Women's Voice.