January 9 2017
Advisory: Jan. 11 Lunch Panel | What's Next For Paid Leave in D.C.?
featuring Victoria Coley
IMMEDIATE RELEASE
January 9, 2017

PAID LEAVE IN D.C.
Where Do We Go From Here?

---
WEDNESDAY
January 11, 2017
722 12th Street, NW
6th Floor
Washington, DC
12:00pm Panel
*Chick-fil-A lunch will be provided
---
(WASHINGTON, DC) -- On Wednesday, January 11th, Independent Women's Forum will host Paid Leave in DC: Where Do We Go From Here? lunch panel discussion.
D.C. joins a growing number of cities and states that have passed paid family leave laws in the U.S. D.C.'s preliminary approval would require businesses to provide up to sixteen weeks of leave: eight weeks for birth, adoption or fostering, six weeks to look after sick relatives, and two weeks for personal medical emergencies.
How will the new law affect D.C. businesses, employees, and taxpayers? U.S. Chamber of Commerce Labor Policy Executive Director Marc Freedman, Greater Washington Board of Trade President and CEO James Dinegar, D.C. based insurance agency Howard & Hoffman, Inc. fourth-generation business owner Scott Hoffman, Amsterdam Falafelshop Co-founder Arianne Bennett, and IWF Managing Director Carrie Lukas will answer this critical question.
Wednesday | January 11, 2017
722 12th Street, NW 6th Floor | Washington, DC 20005
12:00pm EST | Panel (*Chick-fil-A lunch provided)
Event open to the media.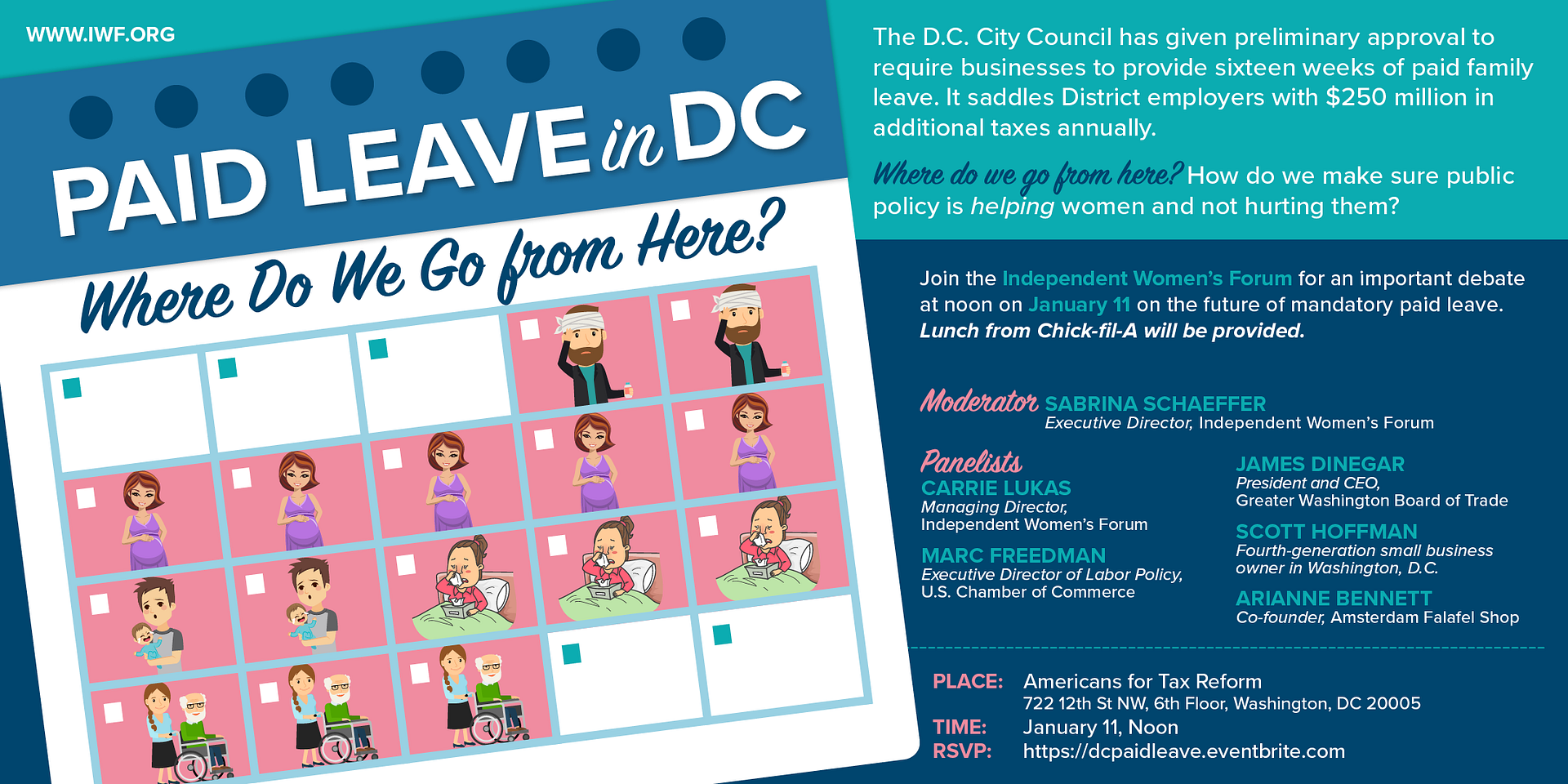 ####
Independent Women's Forum works to improve the lives of Americans by increasing the number of women who value free-markets and personal liberty.
MEDIA CONTACT
Victoria Coley
Vice President of Communications
[email protected]