December 16 2016
Ode To The Strip Mall
Acculturated
Julie Gunlock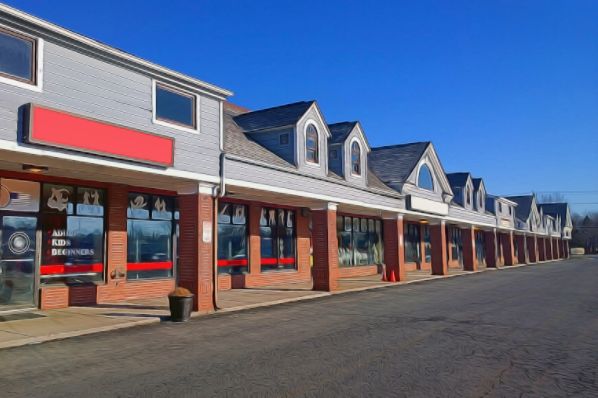 This Christmas season, I find I'm doing a lot more shopping at my local strip mall. Oddly, I'm enjoying it.
Strip malls often get a bad rap. Most are thought of as cold, architecturally unpleasant outposts for life's necessities—dry-cleaning, medications, a quick bite to eat, batteries, stationary, a haircut or a manicure, the odd gift or trinket. No one (I know) ever screams with glee at the thought of going to the strip mall on a date or a special occasion. Yet, as our culture increasingly values convenience over character, these throwback retail establishments offer a bit of both—with some quirkiness and small town friendliness thrown in too.
It really didn't really occur to me that I should better appreciate my local strip mall until my good friend Michelle posted what she called her "Ode to a Strip Mall" on her Facebook page. She wrote:
"Sure, they are a bit ugly, but in fifteen minutes I was able to pick up some things at CVS, buy a card from the quirky (and a little moldy smelling) stationary store, get my son his favorite pumpkin chocolate chip bread and try (for free) a generous slice of low-carb Dakota bread (not sure what that is, but it tasted pretty good), and get chicken soup for my cold from the (average) Chinese place. If I had time, I also would have stopped into the pricey gift shop and ended up with something for myself I didn't need. I certainly spend my fair share of time at Target, but the ole strip mall does come through and is mysteriously a more satisfying experience."
She's right. There's something mysteriously better about a strip mall over a big box store. Now, don't misunderstand, I'm hardly one to romanticize a past where you had to visit the butcher, the baker, and the candlestick-maker just to load up on a week's worth of supplies. Despite our modern tendency to romanticize errand-running and to fetishize grocery shopping, prior to the explosion of large-scale retail establishments like Walmart and Target, it wasn't so fun for those actually doing it.
My modern-day shopping would have been inconceivable to my grandmother in the 1950s, and even to my mom in the 1970s. No doubt they would have preferred to park their cars once for their weekly shopping. I'm able to procure my whole list of items, from a bag of (already washed!) lettuce to a box of thank you notes, prescriptions, light bulbs, a tiny battery for my kid's watch, and even an on-trend and very affordable pair of gloves to replace the ones I carelessly left at the store last week. The ability to get all of these items in one place is called progress—something to celebrate.
Yet, there is something lost to this progress and convenience. My trips to Target or Walmart are always harried, stressful experiences. I rarely find anyone to help me if I need assistance, and when I do, I'm often frustrated because they look and act like a pre-teen and don't know how to help me.
This never happens at the local strip mall. I can always find an eager and willing assistant—it's usually the owner of the store. The person is always kind and generous, and they are patient with my young kids. Perhaps it's because I know the shopkeepers, and they better know and care about their customers. I'm also better behaved, my quick temper abates as I know I see these shopkeepers around town—at restaurants, at the post office; one goes to my church. I certainly don't want to appear impatient in front of someone I see one pew down during Advent.
Strip malls are a bit of a compromise between the multi-stop type shopping that hipsters prefer and the utilitarian uniformity of the big box store. While compact and varied, one must still leave one store and enter another to make a transaction. Stores tend to fill a niche—a shoe store, a card store, a restaurant, a hair salon—and provide consumers a sales associate that more expertly knows the products being sold. Each store looks a little different. It gives one the feel of an old-fashioned main street—except this main street comes with a big, convenient parking lot. That's a compromise that makes Christmas shopping a bit more bearable and still quite convenient.
So this holiday season, head to your local strip mall and be of good cheer.