January 18 2017
Naked Artist Wearing Native American Headdress Accused of 'White Supremacy'
Heat Street
Jillian Kay Melchior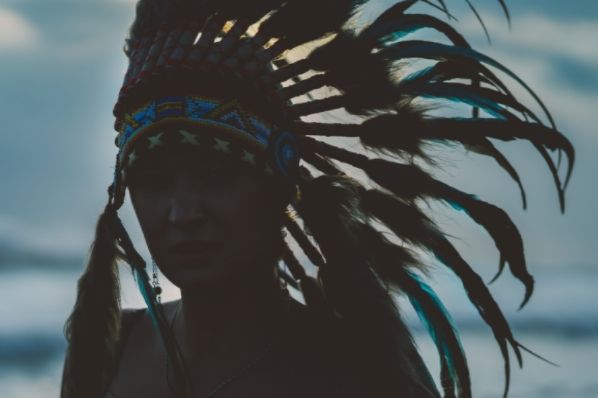 When Latifa Laâbissi appears on stage nearly naked, she seeks to draw attention to the plight of immigrants—but this month in New York City, the French-Moroccan artist found herself fending off charges of cultural appropriation.
In many respects, Laâbissi's performance at the Museum of Modern Art's PS1 studio this month reflected some of the trendiest themes in art and academia right now. Her performance art "uses tropes of caricatures and the grotesque to conjure the silent aggressions and tensions at the heart of some immigrant experiences," MoMA's PS1 said. Laâbissi seeks to "reveal the body as an object of violent conflict," highlight gender and class, and "evoke the challenges faced by minorities."
It makes for a bizarre, awkward viewing. But Laâbissi's Jan. 8 performance also became an unexpected source of controversy when a Minneapolis-based Native American activist learned the artist would perform wearing little more than a Sioux-inspired, feathered headdress.
"This production is an aggressive act of hate speech, cultural appropriation, and sacrilege," activist Rosy Simas wrote on Facebook last month, protesting the event. She called the performance "traumatizing to Native women, disrespectful to Native peoples, and an act of white supremacy." She also accused it of "add[ing] to the systematic genocide and erasure of Native people."
Simas demanded an apology from MoMA PS1, Laâbissi and American Realness, a performance-arts organization had partnered with the museum to host the event. At minimum, Simas wanted the artist to appear without the headdress, but she urged the museum to cancel the performance and replace it with a public forum featuring Native American artists.
Almost immediately, American Realness caved to Simas's demands, vowing to hold not one but two substitute events, on Jan. 7 and 8. One would discuss cultural appropriation, while the other would highlight Native American art.
Thomas Benjamin Snapp Pryor, founder and producer of American Realness, apologetically described himself as a "white male curator" in his recantation.
In a public letter, he said his actions "were unconsidered, and this failure speaks to the genocide of Native American/Indigenous/First Nations people across the U.S. and around the world, as well as the attempted white-supremacist erasure of these people, their history, cultures and sacred objects."
Laâbissi and PS1 were less pliable, refusing to apologize but making some accommodations. Laâbissi Skyped with Simas to discuss her concerns, and MoMA's PS1 changed the advertising imagery for the event; instead of a photo of the artist in the headdress, its new promotional materials featured a podium draped in a French flag.
Neither Laâbissi nor MoMA PS1 replied to Heat Street's request for comment.
But in the end, Laâbissi still wore the headdress during her MoMA PS1 performance, though she removed it almost immediately—"a clear response to the criticisms she had received," wrote the art publication Hyperallergic.
Native American activists showed up at the MoMA PS1 to confront Laâbissi, dissatisfied with even that alteration to her performance.
Laâbissi refused to disavow the headdress in all future performances and "retreated to asking whether art has the right to transgression," Hyperallergic reported. The artist noted that she had appeared as a "nude Arab woman" and had handled the French flag in a way considered illegal.
As the left embraces identity politics, these sorts of confrontations among liberal artists are becoming much more common.
Already, it's become controversial for a gender-fluid, lesbian director to make a film about violence about transgender people, and for cisgender actors to play transgender roles. In some circles, it's even become taboo for authors to write about characters different from themselves.
At best, this Puritanical obsession with identity politics will severely limit the scope of art, and "transgressive" or provocative pieces will be replaced by inoffensive, boring ones. At worst, it will censor art outright.
— Jillian Kay Melchior writes for Heat Street and is a fellow for the Steamboat Institute and the Independent Women's Forum.