February 13 2017
Even Liberals Were Irked by SNL's 'Sexist' Kellyanne Conway Skit
Heat Street
Jillian Kay Melchior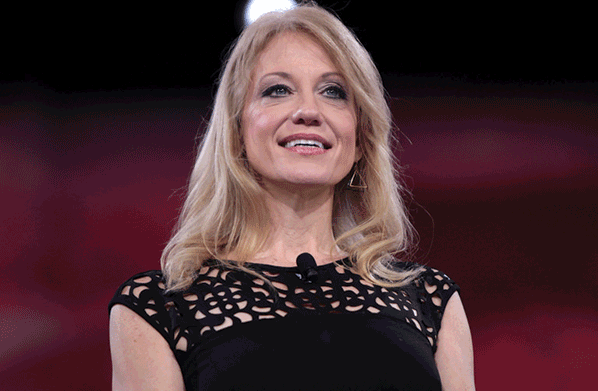 Saturday Night Live continued to skewer Kellyanne Conway this weekend, referencing reports that CNN had temporarily refused to have her on-air because of credibility issues. But the show's Fatal Attraction-inspired skit went too far for some, with several prominent pundits denouncing it as sexist or uncomfortable.
In the skit, Kellyanne Conway, played by Kate McKinnon, breaks into Jake Tapper's home in a negligee and robe, menacing him with a knife and pleading to be booked on the show.
She licks his face and says she wants "that hot, black mic pressed up against my skin." Chasing Beck Bennett's Tapper around the apartment, Conway also says, "You need to reach inside me, and you need to pull out the truth."
Olivia Nuzzi, who covers Trump for New York Magazine, called the skit "sexist, unfunny" and "a gift to the White House."
"Prediction: the White House will use that sexist skit to dismiss all criticisms of Conway and lying more broadly," Nuzzi tweeted on Saturday night. "Casting Kellyanne Conway as Glenn Close was a miscalculation on SNL's part. Will be interpreted as unfair and mean to a wife and mother."
Jonathan Capehart, who writes for the Washington Post, said on Twitter that he was "not sure about that Kellyanne skit," and Andrea Mitchell responded, "Agree. Not Right."
The next morning, real-life Tapper responded with a concise, "Um."
Conway, too, referenced the skit in a Tweet, saying she and Tapper "spoke this morning just before brunch time. No boiling bunnies on the menu."
Even before the Fatal Attraction skit, SNL's portrayal of Conway raised some eyebrows from conservatives. Writing for National Review, Carrie Lucas (full disclosure: she's a colleague of mine at the Independent Women's Forum) criticized the show for repeatedly skewering her.
"SNL depicts Conway—the president of a successful polling company she launched at age 29—as an airhead, publicity-hound and gold digger," Lucas wrote.
— Jillian Kay Melchior writes for Heat Street and is a fellow for the Steamboat Institute and the Independent Women's Forum.