April 10 2017
Actress Freida Pinto in Tears After Activists Brand Her New Film 'Racist'
via Heat Street
by Jillian Kay Melchior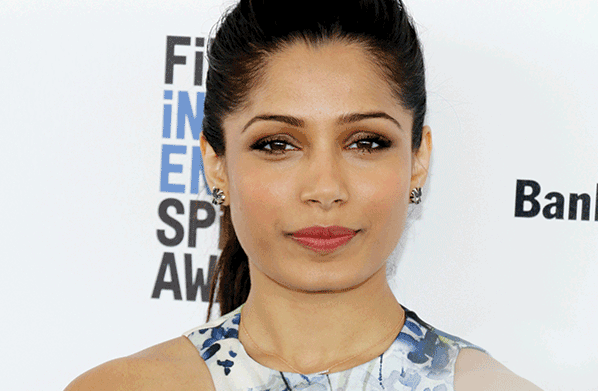 Activists crashed Thursday's London premiere of the new Showtime/Sky miniseries Guerrilla, reportedly leaving the director John Ridley and actress Freida Pinto fighting tears.
Guerrilla, a six-part miniseries set in 1970s London, is about racial injustice and radical militancy. But during the post-screening Q&A, one activist accused Ridley of "the erasure of black women" in his film.
The female lead in Guerrilla is Jas Mitra, an Indian woman who turns to radical activism, alongside her black boyfriend Marcus, after immigration reform puts her at risk of deportation. Pinto, who was born in India, plays the role.
It's historically accurate for Guerrilla to include an Indian character; unlike in the United States, the UK's Black Power movement also included people from the Indian subcontinent.
One audience member said she was upset that the miniseries didn't feature a black woman in a prominent role. "I understand the contributions of Asians to this, but having an Asian protagonist make all the big decisions… does that get explained in subsequent episodes?" she asked Ridley, according to Screen Daily.
"To me, everything you're saying is exactly why that decision is so important," Ridley responded. "The fact that it's difficult to accept someone, even though they are of color, of being with us—."
But the woman interrupted him. "I don't find it difficult to accept," she said. "I'm just trying to understand."
Ridley, who won an Oscar for 12 Years a Slave, became emotional as he defended his artistic choices. The director, who is black, is married to a Japanese woman, and he said his own mixed-race relationship factored into his storytelling, including as he explored themes of racism and oppression.
As Ridley spoke, he was "visibly emotional" and "holding back tears," the Hollywood Reporter said. The Sun reported that activists' aggressive questioning also upset Pinto, and "tears rolled down her cheeks."
By deadline, neither the Q&A's moderator nor a spokesperson for Sky responded to Heat Street's inquiries.
In an interview with The Hollywood Reporter Friday, Ridley said he expected Guerrilla to be controversial.
"If you're dealing with race, if you're dealing with politics, if you're dealing with people who have traditionally been considered 'others,' there is going to be someone, somewhere who is going to be upset about what you're doing," Ridley said. "It's not about agreement. It's about allowing people in some way to have something that they can talk about, whether they agree or disagree."
Pinto has also defended her casting in an interview with the BBC World Service. "What I understood after speaking to John [Ridley] was that black was not just a color of the skin," she said. "It was political blackness, the oppressors and the oppressed, they were from former colonies and India was one of them."
— Jillian Kay Melchior writes for Heat Street and is a fellow for the Steamboat Institute and the Independent Women's Forum.